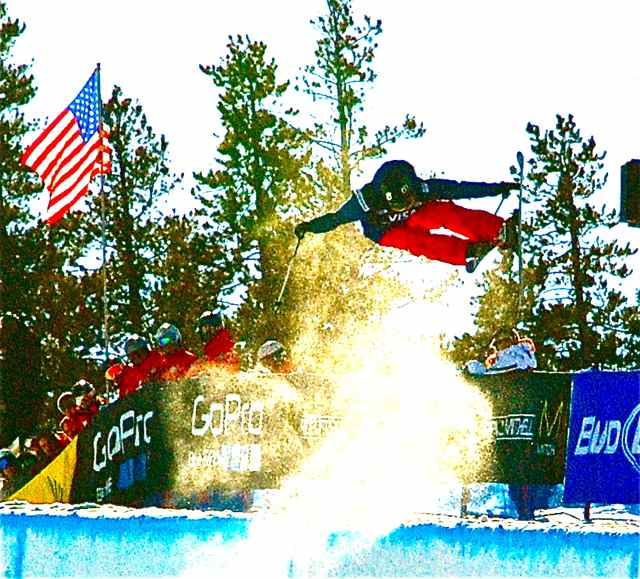 With Colorado's major ski areas all set to open within the next few weeks, it's time to take a look at why this is the best state for skiing, period. Call us biased, but we've skied all over the world and consider ourselves lucky to live in the heart of Colorado Ski Country. Here are our top 10 reasons to ski Colorado:
Longest season: OK, there may be a few spots, like Mt. Hood and some glacier resorts in Europe, that technically have a longer season, but in terms of full-service skiing, Colorado has A-Basin and Loveland, which usually open in mid-October and stay open until May, June and sometimes even July. That means you only have to go about three to four months in the summer without making turns.
Night skiing: We love skiing and snowboarding so much that the normal seven-hour day isn't quite enough. That's why we live close to Keystone, where the lifts roll on right through 8:30 p.m. If you've never spent an evening watching the sun set and the moon rise from the top of Keystone Mountain while skiing the great cruisers on the front side of the resort, you're missing out. Check the Keystone website for details.
Powder: Powder, powder and more powder! Yes, Utah may have co-opted the "Greatest Snow on Earth" marketing slogan, but as experienced skiers, let us tell you that Colorado's snow is just as good as Utah's. And, with a big geographical spread, there's always good snow somewhere in the state. If the storms are blowing in from the northwest, Breckenridge, Copper, A-Basin and Vail are in the bullseye; if the flow is from the Southwest, look for the powder to pile up at Steamboat and Telluride. Most of the state's ski areas average somewhere around 30 feet of snow each year — enough to bury a three-story building.
Snowmaking: Nowhere else in the world have ski areas invested as much to make sure that conditions are good for the key winter holidays like Thanksgiving and Christmas by installing massive snowmaking systems that provide great coverage from top to bottom. You won't find many bare or icy spots at resorts like Copper, where snowguns roar for several weeks in autumn to make sure the skiing and riding are great.
Weather: We aren't going to claim that it only snows at night, but we will say that Colorado boasts its share of bluebird days. Yes, it can be chilly, in late December and January, but even during those months the afternoon sun usually warms things up enough to enjoy an apres-ski drink on the deck, and it NEVER rains here during the winter (are you listening, Whistler?).
Value: Hideway areas like Sun Valley and Jackson Hole may have a certain cachet among jet-setters, but when it comes to family skiing, there's no place like Colorado. Nearly every ski area in the state has some kind of pass deal that helps make a family ski trip more affordable, and if you want to save money on lodging, the resorts along the I-70 corridor have more choice in accommodations than almost any other place in the world.
Access: If you're a Front Range skier, you already know that you have at least a half-dozen ski areas within easy day-tripping distance, but if you're a destination skier from the East Coast or the Midwest, it's just as easy to reach one of Colorado's ski areas after flying into Denver. Resort shuttles serve all the main resorts along the I-70 corridor. If you arrive early in the morning, you can be making turns at your destination by afternoon.
Terrain parks: Riding the rails isn't for everyone, but it is an important aspect of the sport, especially for youngsters. Nearly every ski area in Colorado has not one, but several terrain parks, staring with smaller features for learning, right on up to world-class venues like Keystone's Area 51 and Copper Mountain's Catalyst Terrain Park.
Lifts: Similar to snowmaking, Colorado ski areas have done everything they can to ensure speedy, reliable access to the slopes. After all, what's the point of having a great mountain if you can't get up to the top? All the major areas feature well-designed lift networks that minimize liftlines and maximize the time you're shredding the slopes.
Terrain: We saved the best for last. No matter what kind of skiing and snowboarding you like, you'll find it in Colorado, from the legendary steeps of Arapahoe Basin's Pallavicini, to the wide-open Back Bowls at Vail or the giant mogul fields at Winter Park's Mary Hane, Colorado has it all, including plenty of gentle learning slopes for first-timers. We're partial to the snowcat-served terrain at Copper's Tucker Mountain, as well as the alpine-style Lake Chutes at Breckenridge, but the best thing about skiing Colorado is the variety!
And here's an update on what's new for the 2013-14 winter season. According to Colorado Ski County USA, nearly every area in the state has invested in some upgrades to improve services for skiers and snowboarders, including significant snowmaking and grooming additions, new large scale drinking and dining facilities, and luxury resort lodging renovations — all designed to maintain Colorado's reputation as the top destination for a world class guest experience.
Probably the biggest news of the year is the addition of an entire new peak at Breckenridge Ski Area. The state's busiest resort is adding a new pod of lift-served skiing on Peak 6, with a new lift up to the tree line serving a handful of new trails and tons of gladed tree skiing in what used to be a semi-secret locals backcountry powder stash. Overall, the addition is aimed at easing congestion on the existing lifts and trails, especially at popular Peak 8.
Here's a rundown of improvements at the rest of Colorado's ski areas, courtesy CSCUSA:
Arapahoe Basin
The resort's popular 6th Alley Bar at the base will feature a complete remodel – to the tune of $1 million – and will be renamed the 6th Alley Bar & Grill. It will expand further into the base lodge, known as the A-Frame, and will feature a horseshoe-shaped bar and expanded table seating. The remodel will fit guests more comfortably while they relax and enjoy the Bacon Bloody Marys that have become a staple at the resort. It will also feature a lunch menu with items unique to the venue, and a bar food menu of après favorites like nachos and spinach dip. The projected opening for the renovated 6th Alley is late 2013.
The resort is also investing in snowmaking upgrades and a new snowcat for the fleet, with the intention of expanding the resort's ability to open terrain earlier in the season. Additionally, Arapahoe Basin will be engaging in the next steps to implement the recently approved Master Development Plan: gathering data for the Environmental Impact Statement on terrain expansion and lift-served skiing into The Beavers.
Aspen/Snowmass
Last season's terrain expansion on Burnt Mountain opened up new areas for guests to explore on Aspen Mountain, and the recently completed Elk Camp Restaurant at Snowmass created a stir among visitors. This off-season, Aspen/Snowmass will continue with further improvements to enhance the guest experience, including a distinctive remodel at the luxurious hotel, The Little Nell. This iconic resort lodging, Aspen's only five-star, five-diamond and ski-in, ski-out property, will renovate two of its V.I.P. suites in the fall at the hands of renowned designer Holly Hunt, who helped transform the property in 2009 with a guest room makeover and in 2011 with a lobby remodel.
Copper Mountain
Copper Mountain announces Sherpa: New On-Mountain Audio Intelligence App. Sherpa gives you hands-free, real-time insider intelligence, across the entire mountain. Sherpa tells you what you're near, where to go and what to do when you get there. It's locals only, insider information, available for the first time to everyone on the mountain. Sherpa taps into the knowledge of lifelong employees, ski patrol and local experts and makes that wisdom available to anyone with a mobile device. Sherpa will be launching for the 2013-14 Copper Mountain Ski Season. More information here: http://www.coppercolorado.com/winter/sherpa
For the 2013 season, Copper Mountain Resort has committed to an investment of close to $7M in capital for improvements. In addition to the Woodward Barn renovation, a series of on-mountain projects are underway designed to enhance the High Alpine Experience at Copper. The Storm King surface lift, in operation since 1985, has provided access to the unforgettable skiing and riding in Spaulding Bowl, Upper Enchanted Forest and Copper Bowl. Copper Mountain guests will see a new surface T-Bar lift in its place, providing a substantial upgrade to the original Storm King lift. Also, Copper Mountain will be installing the new "West Ridge Platter," a surface lift at the top of the Sierra chairlift providing easier access to some of the best skiing anywhere in the state. Union Peak, Union Meadows, West Ridge and Copper Bowl will be accessible from the top of this new lift adjacent to the top of the Mountain Chief chair.
Other projects include improved access to Lower Enchanted Forest, improved ski out in Spaulding Bowl and rock work within the Sierra pod will allow the high alpine terrain at Copper Mountain to open earlier and with the help from Mother Nature, stay open longer. Other improvements include the addition of four new snow cats to the fleet and continued snowmaking advancements, allowing Copper to continue its legacy of providing a snow surface second to none from opening day onward.
The Woodward at Copper Barn underwent a half-million renovation project which opened the door far beyond snowboards and skis to now include skateboards, BMX and slopestyle mountain bike. All synthetic snow surfaces were replaced with a surface designed for wheels. Families and amateurs alike are invited to experience the renovations expanded offerings for never-ever's with additions including a new beginner foam pit with 2-foot and 4-foot jumps, a pump track designed for the development of park skills, and new programming to bridge the gap and see results on snow.
All proposed on-mountain projects focus on enhancing and improving popular skiing and riding areas. The Storm King surface lift, in operation since 1985, has provided access to the unforgettable skiing and riding in Spaulding Bowl, Upper Enchanted Forest and Copper Bowl. Copper Mountain guests will see a facelift on Storm King; a new surface lift will provide a substantial upgrade to the Storm King and overall high alpine skiing and riding experience.
Crested Butte
To improve the on-mountain trails for skiers and snowboarders, Crested Butte Mountain Resort will remove trees in the East River lift area to widen the space on tree runs for those who enjoy tree skiing. The area of focus will be between the current trails of Double Top and Black Eagle. Crews will begin work in late summer to create an optimal intermediate tree skiing area.
For kiddos staying at the resort, crews will be cutting three new kid-specific trails in the Painter Boy area. These trails will be about the width of a grooming machine and wind through the trees to give kids a "forest-like" experience. In addition, the resort will be building facades to create an "Elk Avenue" (the resort town's main street) along one of the trails for kids to ski through and play around. There will also be a ski-through bear cave, US Forest Service Lodge, and a gold mining building for interactive play and learning. Ski School guests will be able to take advantage of the new trails and play opportunities on the slopes through this interpretive area of Crested Butte's heritage and mining history.
Durango Mountain
By adding more snowmaking equipment to the frontside of the mountain, Purgatory at Durango Mountain Resort will improve its ability to provide top-to-bottom skiing from the Purgatory Village Express, the resort's six-person high-speed chairlift. The resort is adding 16 new energy-efficient snowmaking tower guns along with a state-of-the-art, high-output fan gun and two new snowcat grooming machines, which will make the mountain operations team more efficient during the early season and help establish a solid base that will last throughout the entire ski season.
The Durango Dog Ranch will provide dog sledding from Durango Mountain Resort's base for the first time, offering guests another way to enjoy the winter wonderland. A new malt shop and candy store will debut in the Purgatory Village Plaza, providing guests with even more options for tasty snacks, delicious desserts and a family-friendly hangout.
While the San Juan Ski Company is now under new ownership and a new name, San Juan Untracked, it will continue to provide an incredible experience as Colorado's largest cat skiing and snowboarding operation with 35,000 acres of skiable terrain from the base of Durango Mountain Resort.
Eldora
Boulder's backyard resort, Eldora, is known for offering a diverse array of terrain, which will be further enhanced in preparation for the 2013-14 season. The resort's snowmaking system is undergoing major improvements that will help to ensure great guest experiences in low snow seasons. Pumping capacity for Eldora's system will be doubled, allowing twice as many snow guns to operate at once. The improved pumping capacity will also be achieved with more energy efficient compressors.
Loveland
A Front Range resort in close proximity to Denver, Loveland Ski Area will be installing restrooms and limited food service at the newly remodeled Ptarmigan Roost Cabin at the top of Chair 2. These will be the first on-hill facilities at the ski area. The lodge at Loveland Basin will also be renovated and expanded to accommodate an additional 320 guests. After a successful first season, the Ridge Cat will again offer free cat skiing access to some of Loveland's most exciting terrain on the north side of The Ridge. With one of the longest ski seasons in Colorado, the Ridge Cat will see plenty of action as it works overtime to take skiers to the resort's powder stashes.
Monarch
After debuting its new multi-million dollar base lodge for the 2012-13 season, Monarch Mountain continues to polish its guest services and amenities for 2013-14. The resort is working this summer on a project to remove the rocks and stumps on High Anxiety and other advanced runs, allowing these runs to be opened and skied with less snow than previously needed. The resort is also building facility improvements, including a new bar in the cafeteria level of the lodge, as well as remodeling the rental shop to speed transaction times.
Off the mountain, a new online reservation system will make it easier for guests to book their entire trip to the resort, from rentals to lodging to lift tickets.
Powderhorn
Powderhorn Mountain Resort (PMR) is pleased to announce improvements and capital projects for the 2013-2014 ski and ride season. Guests will find enhancements in all areas of the resort operation, with continued focus on the overall guest experience. Improvements for the upcoming season include: a new Master Development Plan for future improvements; point of entry enhancements; slope maintenance improvements and additions to Powderhorn's snowcat fleet; lift maintenance enhancements; new kitchen equipment and expanded seating in the Sunset Grille; and the addition of an alternative on-mountain dining option.

Thanks to support from Mesa County, PMR guests will notice improvements immediately upon entry to the resort this season. New asphalt has been installed to enhance the entrance experience, and crews added an expanded 16-foot gravel shoulder, which will provide more convenient parking.
On the mountain, increased snow making capabilities will allow operations crews to establish better early season base conditions carrying the season into the spring, while additions to the equipment fleet, including two new Prinoth snowcats, will improve grooming and slope maintenance efforts.
Two of Powderhorn's lifts received upgrades for the coming season, including new bearings on the West End lift bull wheel and new electronic drive controls on the Easy Ryder lift. In addition, a new communication line will improve reliability and lift safety, and decrease down time for guests.
On the slopes, the removal of standing dead timber, mainly consisting of The Sudden Aspen Decline, or SAD-infected aspen trees, will enhance the resort's glade skiing and riding.
PMR's food and beverage experience also will see improvements. The kitchen equipment upgrade at the Sunset Grille will improve and enhance speed and quality of service in the restaurant, and expanded seating will increase capacity. And, a new restaurant at the bottom of the West End lift, the West End Grille, will offer an easy on-mountain dining option, in addition to the Sunset Grille located at the base of the mountain.
Silverton
As the only Colorado resort that offers heli-skiing, Silverton is an extreme adventurer's paradise. New for the 2013-14 season, and in addition to its regular helicopter operations, Silverton will now offer overnight heli-touring trips for $429 per person per day. These trips include a heli drop onto a peak with a guide and within the ski area's permit boundary, followed by a full day of skiing or snowboarding. Silverton's finest North Face Dome tent awaits overnight guests in the field. Sleeping bags, and all food and beverages are brought by guests and carried along with them in the heli to the zone, and the camp is supplied with cooking equipment and one of the only North Face 2 Meter Dome tents in the northern hemisphere. After another full day of skiing or snowboarding the next day, an additional heli drop places guests on a peak to which they can ski or snowboard down to the base.
Ski Cooper
Ski Cooper, the original site where World War II's 10th Mountain Division trained, is situated close to the Victorian mining town of Leadville. New for the 2013-14 season, the resort is building facility improvements, including relocating its gift shop. In addition, the rental shop will be completely remodeled with the intent to speed transaction times and guest efficiency.
Ski Granby Ranch
This 5,400 acre, four-season resort gives guests a variety of activities that make Ski Granby Ranch a true family friendly resort. This coming season, a new partnership with K2 has upgraded the entire Ski Granby Ranch rental fleet for guests to utilize. To improve its snowmaking operation, the resort has also added 8 new low energy snowmaking guns that will reduce water and electricity usage.
Sunlight
Sunlight Mountain Resort has "So Much to Smile About". New for the 2013-14 season, Sunlight has partnered with local ski/snowboard/longboard manufacturer, Meier Skis in efforts to promote saving our forests. Meier skis uses beetle kill wood from Colorado to produce their products. Sunlight has also partnered with Glenwood Springs Subaru. Subaru has agreed to provide a company car for Sunlight that is Partial Zero Emission Vehicle to help reduce pollution.
Steamboat
For the 2013-14 ski season, Steamboat will present its most significant on-mountain improvements in nearly a decade with the new multi-million-dollar Four Points Lodge. The roughly 13,000-square-foot, two-level building is located in the Storm Peak/Four Points area of the mountain, The restaurant will seat more than 200 in the main dining level and feature an outdoor BBQ, flat screen televisions, indoor bar, plus a retail area and over-sized restrooms. In addition to Four Points Lodge, the resort is upgrading its snowmaking capabilities. It will add two new Bison groomers among other guest improvements to resort facilities. Also in 2013-14, Steamboat will explore the opportunity to offer night skiing.
Telluride
Telluride will be adding more snowmaking capabilities, including installing new machines to increase coverage for the 2013-14 season. In addition, the resort will add more snowcats to its fleet to improve grooming capability on its famous and glamorous slopes.
Also new to Telluride Ski Resort this year is the Inn at Lost Creek. Located slopeside in Telluride's Mountain Village, the Inn is a true Colorado boutique hotel reflecting the town's western hospitality. With ski in ski out access, ski valet and a staff to handle every detail from other Telluride activities to special dinner reservations, the Inn at Lost Creek provides the perfect stay for guests booking a special Telluride vacation. The authentic mountain architecture and 32 unique rooms, each with a kitchen as well as washer and dryer, make the Inn at Lost Creek the perfect home away from home.
Along with the addition of the Inn at Lost Creek is Telluride's newest restaurant, Siam's Talay Grille. Sister restaurant to the ever popular Siam down in the town of Telluride, Jeff Badger and his team bring the superb food reputation Siam enjoys to the Mountain Village core. The dinner menu focuses on a spectacular seafood selection featuring at least three fresh fish flown in, and complimented by a selection of house-made sauces. On the bar menu is Siam's famous hand-rolls and lettuce wraps as well as specialty cocktails. Located inside the Inn at Lost Creek, Siam's Talay Grille will fill a much needed niche in the Mountain Village gastro scene.
Winter Park
This winter, Winter Park will offer a new "Cirque Sled," a snowcat ride that will provide skiers and riders easier access to the Cirque, where 1,332 acres of spectacular off-piste terrain awaits. A pass for the 48-passenger Cirque Sled is just $10 and is good for unlimited rides all season long. Winter Park is also updating its snow cat fleet by adding three new cats and replacing two others, which will increase groomed terrain to between 650-750 acres a night.
Winter Park's main snowmaking pipe, originally installed in 1976, will be replaced, allowing Winter Park to be more efficient when making snow, and in turn enable terrain to open faster. The Coca-Cola Tubing Hill will be open for a full season after being added at the end of 2012. A full season of operation for not only the tubing hill, but also the Hill House – winner of awards for architectural design and featuring designer hot chocolate – will give families yet another fun activity at Winter Park beyond skiing and riding.
Wolf Creek
Wolf Creek Ski Area is replacing the Treasure Lift, which is one of Wolf Creek's main lifts connecting guests to a wide variety of terrain, with a new Doppelmayr detachable high-speed quad. The new Treasure Stoke Lift will provide guests with an easier and more pleasurable loading and unloading experience.
In addition, the Elma Lift, Sports Center Remodel, Race Hutch and Water Tank projects have recently been approved by the United States Forest Service and will have a 2 – 3 year completion time. Once completed, the Elma Lift will provide skiers a way to get back to the base area from the bottom of the Alberta lift and eliminate the long traverse across the mountain from Park Avenue to the base area.
The Sports Center upgrade and remodel includes a tasteful expansion of the existing facility into a two-story building. The existing Race Hutch will be completely rebuilt. The new building will be approximately 18 feet by 20 feet and located below the current Race Hutch location. To increase Wolf Creek's current water storage, a new 500,000 gallon steel water tank will be built and support the base area infrastructure and snowmaking as well as fire fighting.