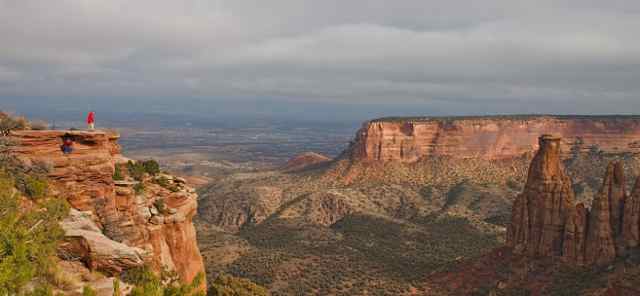 Visitors to Colorado National Monument, near Grand Junction, Colorado, help sustain the local economy with spending directly related to tourism. bberwyn photo.
Visitors to national parks in Colorado pumped more than $340 million into the state economy last year. Parks tourism also directly supported about 5,000 jobs, the National Park Service said in its annual report on visitation and spending. Altogether, almost 6 million people visited national park sites in Colorado in 2013.
The report also highlights the destructive effect the 2013 government shutdown had on communities like Estes Park, Cortez and other gateways to our nation's national parks. Several parks saw losses exceeding $2 million during the shutdown.
In Colorado, impacts included:
177,000 fewer visitors to Estes Park and Rocky Mountain National Park and an estimated loss of $10.9 million in visitor spending; and,
30,000 fewer visitors to Cortez and Mesa Verde National Park and an estimated loss of $3 million in visitor spending.
"This report ... underscores the destructive effect that partisan politics can have on these national treasures," Sen. Mark Udall (D-Colo.) said in a statement. "The reckless 2013 government shutdown and the pain it caused in Estes Park and across Colorado have only steeled my resolve to keep fighting to support and protect Colorado's spectacular parks and monuments and the communities they support," Udall said. Udall encouraged the federal government's decision during the shutdown to allow Colorado's state government to reopen Rocky Mountain National Park.