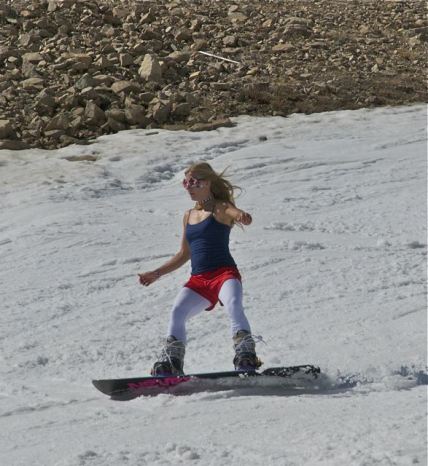 For diehard Colorado skiers, this season will go down in the books, and it's not over yet. Arapahoe Basin has reported fresh snow nearly every day so far in May, most recently 7 inches on May 15, and the resort, already know for a long season, announced it well extend operations for a bonus weekend in early June, with additional skiing and riding on subsequent weekends, conditions permitting.
It might be time to plan a spring visit to Summit County, and based at one of our Copper Mountain vacation rentals, you can enjoy the best of several seasons, with cycling on the paved recpath, hiking and wildlflowers on lower-elevation trails, or even some birdwatching to check out the bald eagles nesting along Dillon Reservoir. Check our listings to find some sweet spring deals.
A-Basin's season-long snowfall has passed 400 inches and the ski area is reporting an 80-inch base. Originally slated to close June 1, A-Basin will now open for a three-day weekend, June 6 to June 8.
"If conditions remain favorable, and people still continue to be excited about skiing and riding this spring, our hope is to take this season even further," said Alan Henceroth, A-Basin's chief operating officer.
In 2013, May brought 47 inches of snow to the Basin, and this May the ski area has already seen half of that amount. Currently, A-Basin is operating with an 80 inch base and over 80 percent open terrain. Guests should check the A-Basin terrain status page for up-to-date trail openings, as well as the A-Basin 411 page for information about skier services as the bonus weekend date draws closer.
A-Basin will be closed for regular operations from Monday, June 2 through Thursday, June 5, 2014. Lift-served skiing will resume Friday, June 6 and continue through Sunday, June 8, 2014. If the season is extended further, regular operations will be on Fridays, Saturdays and Sundays only. Stay tuned to Al's Blog, the A-Basin Facebook page and ArapahoeBasin.com for snow conditions, photos and information.