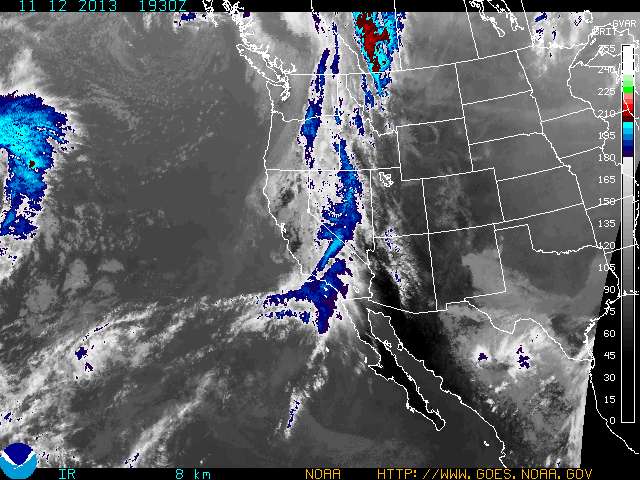 Like most mountain dwellers and outdoor-sports enthusiasts, we're weather geeks. We're not afraid to admit it, and if you happen to be a Copper Condos guest or blog reader, it works to your advantage. We keep up on the short-term forecasts, the long-term trends and even the science behind the weather, which means that our guess as to what the weather will be like when you come to Copper may be just a little more educated than most.
And when it comes to weather, we don't just flip on the local TV news. First of all, the Denver-based stations really forecast for the Metro area and Front Range, and mountain weather is a world unto itself. In fact, it's often the opposite of what you'll find in Denver or Boulder.
The same goes for national weather outlets. As much as we enjoy The Weather Channel, they only offer a generalized forecast for the entire state, and often miss the nuances of topographically affected local mountain weather in Summit County. But our best choice for up-to-the-minute current conditions is Weather Underground, which features great stats on a very local level, including data from a weather station just down the road from the Copper Condos office.
When there's a strong northwest flow, Copper and the rest of Summit County are often getting hammered with snow, while the Front Range bakes under Chinook winds. If a storm is moving in from the southwest, Telluride, Crested Butte and Wolf Creek are probably getting big snow totals, while Summit County sits high and dry.
One thing that can help you plan is our month-by-month climate guide for Copper Mountain, with general information on what to expect, including a range of high and low temperatures and chances for fresh snow.
When we post a weather update, it's based on a scan of several different information sources. We usually start with the Colorado Avalanche Information Center, not just because we want to know what odds of a backcountry avalanche , but because the CAIC forecasters are dialed into the intricacies of mountain weather. They offer zone-specific forecasts with expected snowfall totals, winds, and temperatures at ski area elevations.
The main CAIC site even features a right-hand sidebar with snowfall totals from various SNOTEL sites, which will give you a better idea of what's really going on than the oft-inflated snowfall reports from resorts. For starters, we usually view the statewide forecast and avalanche page, and then navigate to the Summit-Vail zone forecast for a more detailed look via the Zone Forecast tab in the left-hand sidebar.
Since it just so happens that Summit County sits near the dividing line between the areas covered by the Boulder and Grand Junction National Weather Service forecast stations, we usually look at the forecast discussion from both places to get a better sense of what's ahead.
Technically, we're in the Boulder zone, but their forecast often seems geared more toward the Front Range, so to supplement the "official" forecast, we also look at the Grand Junction data, which helps us know what's moving our way. On both sites, click on the "forecast discussion" tab in the left-hand sidebar, and on any highlighted winter weather warnings or advisories for detailed information.
If we want to look ahead a little bit farther (and we often do), we check out NOAA's Climate Prediction Center website. Some of the world's best climate and weather experts work here, using complex models and all the best available satellite technology to come up with outlooks extending six to 10, eight to 14, 30 and even 90 days ahead. The site features pretty cool interactive maps, so don't be afraid to click around.
Finally, if we want to look at the really Big Picture, we go to NOAA's El Niño page. If you don't already know, El Niño and La Niña are large-scale hemispheric cycles in the Pacific Ocean that often help shape overall winter weather patterns in the Colorado Rockies and across the U.S.
Of course, this year, we're in between the two phases in a "neutral" cycle, and that means the weather experts are having more trouble than usual forecasting a seasonal trend. So that leaves it up to us, and we're predicting a snow-filled winter, but that's because we're skiers and eternal optimists!
Follow us on Twitter, where we'll keep you posted on the latest weather information, jpoin our Facebook page to see what all our other Copper Mountain friends are up to, and if you're ready to plan a trip to Copper Mountain, let us help you with the best selection of Copper Mountain lodging.