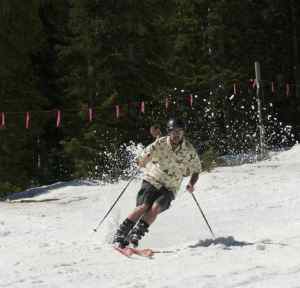 Sunsation returns to Copper Mountain this year on April 18 and 19, bringing back the Red Bull Slopesoakers bigger and better than ever, along with live music starting at 2 p.m. with Denver's P-Nuckle, followed by headliner Reel Big Fish.
In this year's edition of the Slopesoakers contest, entrants have the chance to throw down and strut their stuff in a slopestyle rail jam format. Space is limited, so register online in advance CopperColorado.com.
At 1 p.m., Burning Stones Plaza transforms into Draga's playground with the Dos Equis Après Series presented by World of Adventure.
Sunday, April 19 starting at 1:30 p.m. guys and gals show off their best beach wear in the infamous Eenie Weenie Bikini Contest. Contestants make their way down from the base of the Main Vein Halfpipe via skis or snowboard and give their best show to a panel of judges. Registration for Eenie Weenie Bikini will be open both Saturday and Sunday in Burning Stones Plaza for just $20.
From 1 – 5 p.m., World of Adventure once again presents the Dos Equis Après Series with the Feast of the Brave and Big Air Challenge. Free live music from 3 - 5 p.m. with Denver-based Oakhurst rounds out the weekend.