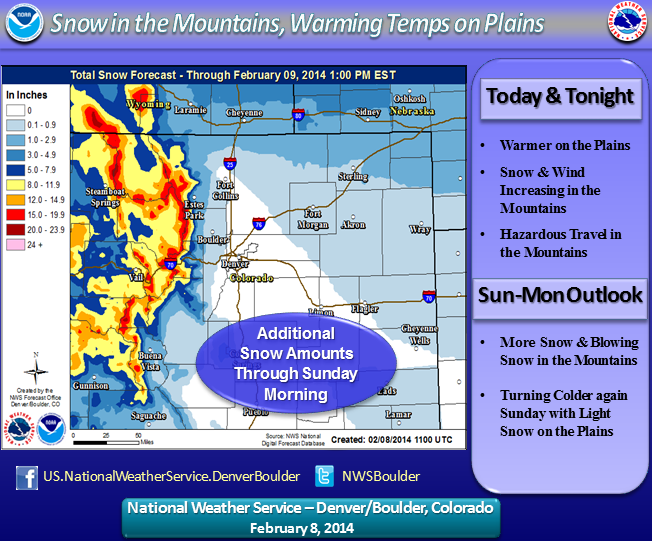 Copper Mountain is in the midst of yet another storm cycle, with snowfall expected to continue right through the weekend. In contrast to last week's cold, Arctic system, the latest round of snow is fueled by a very moist and relatively warm flow of air off the Pacific Ocean and steady accumulations are forecast to persist on and off the for the next three to five days.
Weather experts are talking about an atmospheric river bringing beneficial moisture to much of the West, especially in California, where it's sorely needed, and at Copper Mountain, that adds up to plenty of powder for skiers and snowboarders. The resort is reporting an eight-inch storm total so far, 11 inches in February and more than 200 inches for the season.
The skiing this coming week is going to be as good as it gets, with moderate temperatures (highs in 20s) and moderate winds, mainly across the peaks and ridgelines, so don't miss out. We have some great Copper Mountain vacation lodging for you for the week of Feb. 9 to Feb. 14, including spacious two-bedroom condos that sleep larger groups and cozy studio lofts perfect for a romantic Valentine's Day getaway. Check availability here.
Snow is falling around the rest of Colorado, with anywhere from 14 inches (Eldora) to 25 inches (Monarch) reported. Visit the CSCUSA snow report for more details. According to a winter storm warning from the National Weather Service, snow will continue through Sunday night, with another 10 to 15 inches possible. After a short break early in the week, the moist westerly flow is expected to return, so keep those boards waxed.
The new snow has also upped the avalanche danger in the backcountry, where the Colorado Avalanche Information Center is advising against backcountry travel. With the avalanche danger in the red zone, rated as high, both triggered and natural releases are likely. The CAIC has issued an avalanche watch for the backcountry around Copper Mountain.