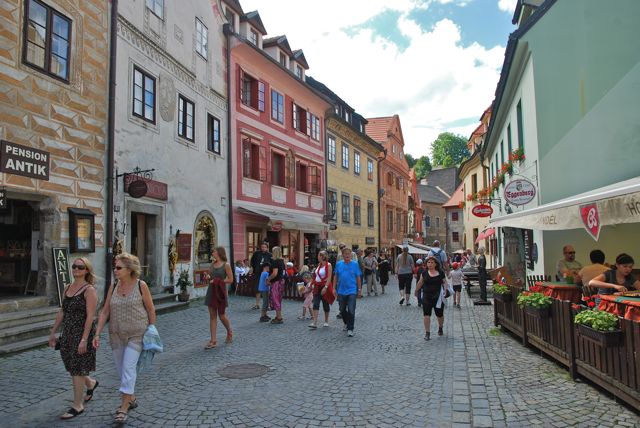 Tourism revenues helped the Czech town of Český Krumlov thrive after the Iron Curtain crumbled. bberwyn photo.
The World Tourism Organization has long touted travel as a way to grow sustainable economies, especially in developing countries. This year, the organization's annual World Tourism Day will emphasize the community building aspects of the industry, with the official celebrations hosted Sept. 27 by Guadalajara, Mexico.
The theme underscores the potential of tourism to promote opportunities for communities around the world, as well as the role that community engagement has in advancing sustainable tourism development.
"Each time we travel, use local transport at a destination or buy products from a local market, we are contributing to a long value chain that creates jobs, provides livelihoods, empowers local communities, and ultimately brings in new opportunities for a better future", UNWTO Secretary-General Taleb Rifai said in his official WTD message. "Tourism can only prosper if it engages the local population by contributing to social values such as participation, education and enhanced local governance. At the same time, there can be no real tourism development if such development damages in any way the values and the culture of host communities or if the socio-economic benefits generated by the tourism sector do not trickle down to the community level", he added.
The official celebration in Guadalajara will include a high-level think tank bringing together ministers, development experts and key tourism representatives to address the relevance of a community based tourism approach as conducive to sustainable development. The Think Tank will be moderated by news anchor Gabriela Frías of CNN International, the WTD 2014 global media partner.
Get involved!
Join the conversation on #WTD2014: Tell us how has tourism benefitted your community and what experiences would you like to show to the world?
Visit Mexico's community tourism projects: If you want to see first-hand the value of community tourism, join the first ever WTD blogger competition.
Share your celebrations: We want to hear how you will be celebrating WTD 2014! Include your WTD event on the official WTD webpage and share it with the world.