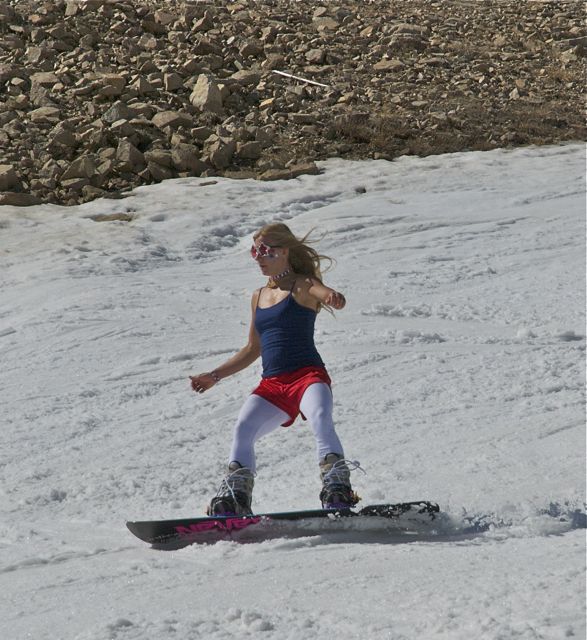 Colorado skiers and snowboarders can look forward to at least one extra weekend of snow-sliding fun. Arapahoe Basin announced this week it will open for a bonus weeked, June 12-14, thanks to plentiful spring snow.
The high-elevation ski area in Summit County has tallied 50 inches of snow in May, and 84 inches — seven feet — of snow since mid-April. If the weather stays cool and moist, A-Basin may add yet another weekend, ski area officials hinted in a press release. A-Basin opened for the season on October 17, 2014, and is one of only three ski areas still open in North America.
"With our snowy and cool spring weather, the skiing conditions are better than we have seen for years at this time in May," said Alan Henceroth, Arapahoe Basin Vice President and Chief Operating Officer. "We will be re-opening for at least one more long weekend."
Regular ski area operations will continue through Sunday, June 7. After June 7, all ski lifts and skier services will be closed Monday through Thursday. The ski area will reopen for lift-served skiing on Friday, June 12, and remain open through Sunday, June 14, with limited skier services. During the bonus weekend, the Black Mountain Express and Lenawee Mountain lifts will run from 8:30 a.m. to 2:30 p.m. Terrain availability will be dependent on conditions; be sure to check our Terrain Status page before arriving at the mountain.
All information about skier services during the bonus "summer skiing" weekend can be found at arapahoebasin.com/summerski. Guests who wish to ski for the majority of the bonus weekend can purchase a special two-day ticket for $79 for adults (ages 19-69) and $52 for children (ages 6-14); guests skiing all weekend June 12-14 can purchase a three-day ticket at $108 for adults and $64 for children. These special tickets are valid during our bonus weekend only.
Last season, late-spring storms allowed A-Basin to extend its season through June 22, 2014. Any further extensions to the 2014-15 season will be announced at a later date. A-Basin has remained open until July 4th several times in its history (1993, 1995, 1996, 1997 and 2011). The latest A-Basin has been open was August 10, 1995.