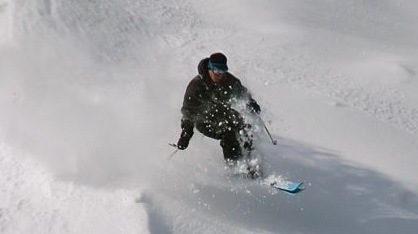 Stellar early season snow brought near-record skier visits to many Colorado resorts, according to a statewide trade group that represents most of Colorado's ski areas. The industry had hoped to ride the momentum from last winter's success into this season, and bountiful around the Christmas holiday ensured world-class conditions across the state.
According to the official tally from Colorado Ski Country USA, visits at its 21 member resorts were about 1 percent off last year through December 31, 2014, compared to the same period last year. Last season's first period skier visits were more than 20 percent up over the preceding season's first period. Additionally, 2014/15 first period skier visits, like last season's first period skier visits, exceeded the five-year first period average, this year by nearly four percent.
"Many in-state skiers didn't head to the slopes at the beginning of the season, a time when most visitation is our Colorado based skiers and riders," said Melanie Mills, president and CEO of CSCUSA. "It wasn't until mid-December that Colorado saw significant snowfall that arrived in abundance and in time for resort guests from out-of-state, as well as in-state, to enjoy wintery holidays."
Holiday period visitation was strong with good snow conditions and resorts reporting increased spending across ancillary businesses.
"Guests turned out in good numbers to enjoy resorts during the holidays, and on colder days they took advantage of warm drinks by a cozy fireplace in the lodge," Mills said. "While snow and weather are key factors in skier visitation, we also account for our resorts excellent guest service and popular holiday activities."
"Resort calendars are teeming with exciting events and we're seeing a lot of confidence in the indicators for the season in front of us: strong hotel bookings as we look to spring, a well-timed Easter holiday for ski vacations, and Colorado's traditionally snowier months are still ahead," said Mills.
It is important that skiers and riders remember to practice safe behavior while on the slopes. January is National Ski Safety Month in Colorado and skiers and snowboarders are encouraged to know and follow Your Responsibility Code; widely regarded as the key to skier and snowboarder safety on the slopes. Simply referred to as The Code, it is comprised of seven principles that collectively outline on-mountain skier etiquette and safe skiing practices. More information about how resorts are recognizing ski safety month and The Code can be found at http://blog.coloradoski.com/2015/01/07/colorado-ski-country-resorts-promote-safe-skiing-riding-january/
Skier visits are the metric used to track participation in skiing and snowboarding. A skier visit represents a person participating in the sport of skiing or snowboarding for any part of one day at a mountain resort.