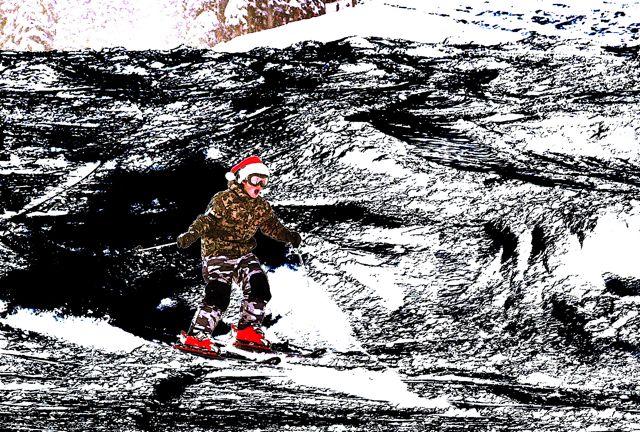 If you could plan the ultimate ski safari through Colorado, where would you go? Are you tempted by the sublime alpine spires of Telluride, or drawn to the legendary powder stashes of Wolf Creek? Do you want to follow in the footsteps of Colorado ski legends at A-Basin? Or maybe, your daughter just did well on a math test and you want to reward her by playing hooky for the afternoon at Loveland or Copper Mountain.
That's where Colorado Ski Country USA's grade-school ski passport comes in handy. Offering free and affordable access to more than 20 ski areas, the trade group's program is surely one of the best deals on Planet Ski.
Fifth-graders get the best deal, with three free days at all of the participating areas. The sixth-grade pass is $99 (four free days), which amounts to 80 days on the slopes for less than $1.25 each day. And for fifth-graders new to skiing or snowboarding, the deal even includes a free lesson and gear rental during the month of January at 17 of the areas (advance reservations required).
"Colorado Ski Country's Passport Programs have introduced an entire generation of youngsters to skiing and snowboarding," said Melanie Mills, president and CEO of Colorado Ski Country USA. The program helps develop life-long skiers and snowboarders who become ambassadors for their state's signature sports.
Participating resorts in the 2013-14 Passport programs include: Arapahoe Basin, Aspen Highlands, Aspen Mountain, Buttermilk, Copper Mountain, Crested Butte, Purgatory at Durango Mountain Resort, Eldora, Howelsen Hill, Loveland, Monarch, Powderhorn, Ski Cooper, Ski Granby Ranch, Snowmass, Steamboat, Sunlight, Telluride, Winter Park and Wolf Creek.
To help make those ski adventures affordable for the whole family, CSCUSA is also offering the 2013-2014 edition of the Gems discount cards, featuring two-for-one lift tickets and exclusive Flash Deals promotions you'll probably find on Twitter.
The new Gems Card program makes it easy to save on lift tickets. At any Gem resort, card holders can purchase one adult full day lift ticket and receive another adult full day lift ticket for free. Each Gems Card is good for one use per Gem resort, per season, and only a limited number of Gems Cards are available for sale.
Colorado's Gems epitomize Colorado's ski culture with their western authenticity, artisanal charm, and nostalgic skiing. Like diamonds in the rough, these resorts are strikingly beautiful, individually unique and not to be overlooked. The Colorado Gem resorts are: Arapahoe Basin, Eldora Mountain Resort, Loveland Ski Area, Monarch Mountain, Powderhorn Resort, Ski Cooper, Ski Granby Ranch, and Sunlight Mountain Resort.
For more information, or to purchase a Gems Card, visit www.ColoradoSki.com/Colorado-Gems-Card. Cards are available now and will be available throughout the upcoming ski season until they are sold out. The Colorado Gems program is presented by Icelantic Boards; a Colorado based ski company that represents skis, art, adventure creativity, passion and innovation. More information on Icelantic can be found at www.IcelanticBoards.com.