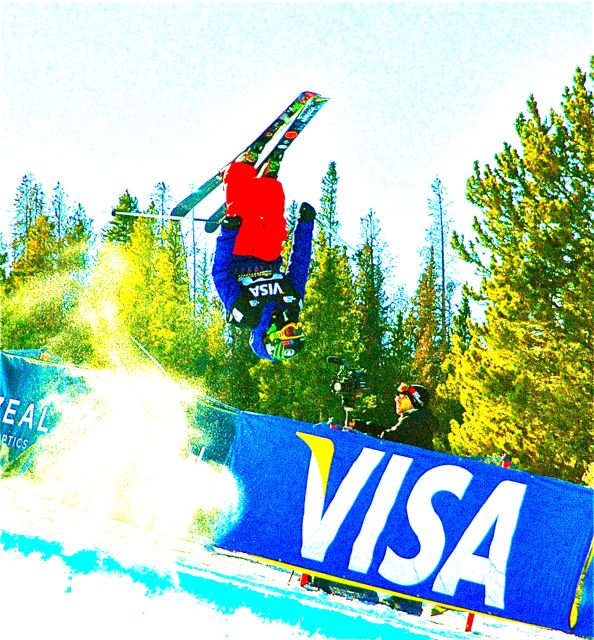 Colorado ski areas once again dominated the rankings in the annual SKI Magazine readers poll, taking four of the top-10 spots, but the big surprise this year was Jackson Hole, which shot to first place on the list, ahead of perennial winners Vail, Deer Valley and Whistler-Blackcomb.
Copper Mountain ended up as number 26 in the poll, which is based on feedback from skiers who visit the resorts. That put Copper a few spots behind Summit County rival Keystone (23), which also vies for Front Range families as a key part of its market.
As always, Copper garnered favorable reviews for its naturally divided terrain and family friendly vibe. Here's a quote from the SKI mag story:
"Backside terrain is among the best, with excellent challenges available to expert skiers in Copper and Spaulding bowls, bumps are amazing in Resolution and Union bowls, as well as over by Alpine lift, and the free snowcat to Tucker Mountain is always worth a go."
"Copper is fortunate to have a mountain with naturally divided terrain, as the runs mostly get harder from west to east."
Among Colorado areas, Vail scored the number three spot, behind Jackson Hole and Deer Valley, while Telluride, Steamboat and Snowmass ranked seventh, eighth and ninth.
Jackson Hole, long known as haven for steep powder stashes, has gradually been working its way up the list, gaining favor for great terrain, snow, as well as its western vibe. Here's what SKI mag readers had to say about the Wyoming resort:
"There is no place that offers more variety and challenge in terrain."
"There's no place quite like JH: there's a rowdy, go for it vibe here that I have experienced nowhere else and people dedicated to the mountain lifestyle and all that that means."
Sun Valley, one of the country's most historic ski destinations, has also been climbing up the rankings, reaching the number four spot this year, as readers raved about uncrowded conditions at the Idaho area:
"No lines, incredible grooming and amazing scenery, not to mention gold-plated commodes and granite counter tops in all the ski lodges. Sun Valley is a five-star experience."
"It is that perfect little ski town that you read about in books. With ice skating, shopping, and dinner all within a short walk this is a place you will enjoy visiting."
Vail achieved its top Colorado rating for its overall package of amenities:
"A skier's Disney Land. World-class skiing, service and amenities on the mountain and in the village."
Whistler-Blackcomb may have slipped a few spots, but readers still are enthralled by the area's expansive terrain, along with the lively nightlife:
"Awesome expert slopes in every flavor imaginable. Powder and soft snow are easy to find several days after a snowfall. Expansive, rugged terrain creates picturesque views at every turn."
"From the mountains to the villages to the nightlife to the people and back to the terrain, it's hard to find a better place to ski and snowboard on this planet."
At number 16, Breckenridge can lay claim to being the most popular area in Summit County, based on the SKI mag poll, getting favorable comments for being an all-around destination resort.
Keystone was mentioned for its easy access to Denver, as well as night skiing,
Here's the top-10 list:
1. Jackson Hole, WY
2. Deer Valley, UT
3. Vail, CO
4. Sun Valley, ID
5. Park City Mountain Resort, UT
6. Whistler Blackcomb, B.C.
7. Telluride, CO
8. Steamboat, CO
9. Snowmass, CO
10. Canyons, UT