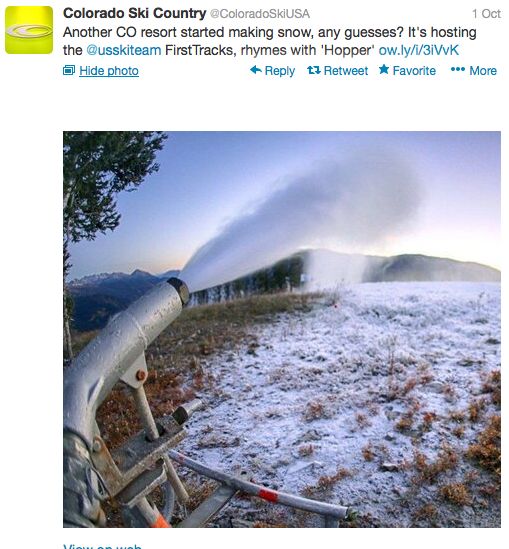 Nearly every ski area in Colorado picked up at least a few inches of snow from an early October storm, with a foot at Steamboat, 10 inches at Winter Park, 9 inches at Powderhorn and half a foot at many other areas.
With powder starting to blanket the slopes, it might just be time to get up to speed with the latest news from your favorite area, and in the age of social media, one of the best ways to do that is to sign up for Twitter and follow the ski areas you're interested in.
Since we weren't able to find a ready-made list, we compiled our own links to the Twitter feeds of all the resorts in Colorado that have a Twitter presence. Often, ski areas announce last-minute deals or special offers on their channel, and Twitter can also be a great way to ask questions about conditions at a certain resort.
Another way to find ski area information via Twitter is to do a hashtag search. For example, if you want to see what people are saying on Twitter about Copper Mountain, type #Coppermtn into your Twitter search bar and you'll see all the latest streaming in real time. It's a great way to get an up-to-date report on fresh snow, weather and snow conditions.
You can also stay current with nearly all Colorado ski areas (excepting the Vail-owned resorts) is to follow Colorado Ski Country USA on Twitter. The trade group represents 21 resorts and often retweets the feeds of its members.
You should also be following Copper Colorado Condos on Twitter for updates on ski conditions, cool pics and breaking news on Copper Mountain events, as well as lodging deals and other information. Here's our feed: @CopperCondos.
And here's our Twitter "master list" of Colorado ski areas: