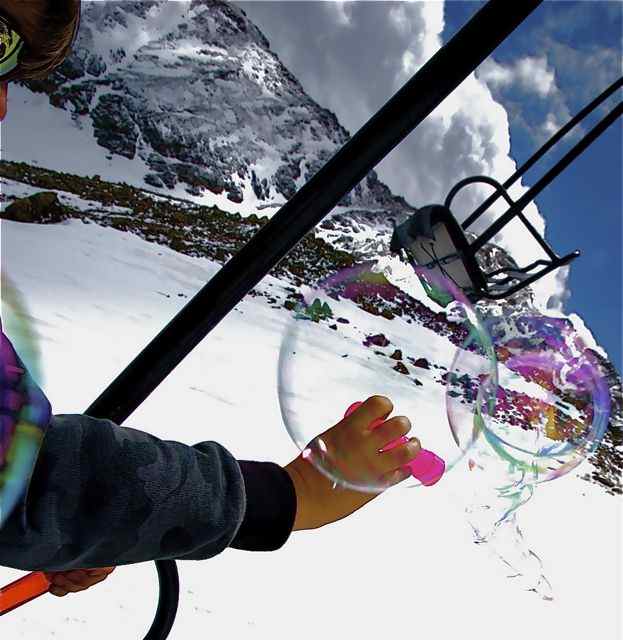 For Colorado skiers, spring is the best time of the year, offering the snowiest months of the ski season, but also longer days and plenty of special events, races and concerts through the end of March and into April. Highlights include the American Freestyle Ski Championships at Steamboat, a Retro Day at Eldora and even a scavenger hunt at Loveland. A sampling of spring flings via Colorado Ski Country USA.
Arapahoe Basin
9th Annual Fire Hose Relay – February 27
Fire departments from across Colorado team up to participate in a unique slalom-style event benefiting the Burn Camps Program at the Children's Hospital of Colorado. Teams of five firefighters race down a 15-gate slalom course while holding on to 50 feet of fire hose. All participants dress in their bunker jacket and fire helmet. For more information, visit http://www.arapahoebasin.com.
The New Belgium Mountain Adventure – March 7
The infamous on-mountain New Belgium Colorado Scavenger Hunt at Arapahoe Basin is a day for guests to throw on their best costumes, chase (very large skiing and snowboarding) chickens, search for a skiing bigfoot and answer some ridiculous riddles all while skiing, raising money for the High County Conservation Center, and bonding with friends. For more information, visit http://www.arapahoebasin.com.
Aspen Snowmass
15th Annual Bud Light Spring Jam – March 13-29
The 15th annual Bud Light Spring Jam will bring three weekends of competitions, downtown concerts and parties to Aspen Snowmass. The festival features everything from the 16th annual KickAspen Big Air, where skiers and snowboarders compete under the lights at the base of Aspen Mountain, to free Bud Light Hi-Fi Concerts featuring Umphrey's McGee, Dirty Dozen Brass Band, and Iration. Other events include the eighth annual Fallen Friends Memorial Event and Terrain Park Boot Camp sessions that offer instruction on how to slide a box or hit a rail in a mini-park at Snowmass. All events free and open to the public. For the full schedule of events, visit http://www.aspensnowmass.com.
Copper Mountain
World of Adventure Presents Dos Equis Après – March 7 - 8
After a remarkable day on the slopes, Copper Mountain Resort invites guests to reward themselves at the World of Adventure Dos Equis Après Ski series featuring the Feast of the Brave culinary challenge. Guests who are up for the challenge and have the taste buds and the wit to pass the test should come thirsty for interesting eats, cold beer and live music. For more information, please visit CopperColorado.com.
Woodward Copper Winter Camp - March 21 - 22
Woodward Copper Winter Camps are in full swing with two remaining ski and snowboard camps offered this winter. Winter Camp offers a half-day in the Woodward Copper Barn and a half-day spent in Woodward's award winning terrain parks. Campers also have exclusive access to the BagJump NIP™ foam pit airbag to help further their progression. This camp features free gear giveaways thanks to Spy Optics. For more information on Woodward Winter Camps including a full list of dates and sponsors please visit WoodwardCopper.com.
Crested Butte
Springtime Music at Crested Butte
Skiing, spring and music go hand in hand in Colorado and Crested Butte is the perfect place for all three. As part of the free Apréspalooza concert series, the resort is hosting Matisyahu on Saturday, February 28. The final Apréspalooza concert will be closing weekend at the resort, April 4-5, 2015, with the artist still to be announced. In addition, the resort's annual Skitown Breakdown concert featuring Switchfoot is on Saturday, March 21, 2015. For full information on spring music in Crested Butte and to purchase tickets for Skitown Breakdown visit www.skicb.com/music.
Eldora
Eldora's Annual Retro Day - March 14
Guests at Eldora's Retro Day have an opportunity to win prizes for wearing the best vintage ski outfit. Guests can enjoy live music both in the Corona Bowl Bar and outside on the sundeck. In addition, Romp Skis will host an on-mountain demo day for guests to test their latest equipment. Guests of all ages are invited to show off their retro gear and join this fun-filled annual event. For more information, visit www.eldora.com.
Loveland
New Belgium Scavenger Hunt – March 28
The New Belgium Scavenger Hunt is returning to Loveland Ski Area for another day of fun, prizes and beer all for a good cause, the Alliance for Sustainable Colorado. Guests can bring up some friends or form a team with a new friend in the check-in line and compete for great prizes from New Belgium and Loveland Ski Area. The price of entry is $10 per person to join the fleet of New Belgium and Loveland characters on the slopes and participate in an event that's quickly becoming a Loveland tradition. For more information, visit www.skiloveland.com.
Powderhorn
BC Surf & Sport Slope Style Event – February 21
Join the Powderhorn Park Crew as they put on the BC Surf & Sport Slope Style Event. Registration is Saturday, February 21, from 8-10am, and the event begins at 11:00 am. Cost is $15 with the competition starting at 11 am. All ages are welcome to enter and watch.
Night Skiing – February 27 - 28
Head to Powderhorn for a night of skiing/riding under the stars and lights when Wagner Rents Night Skiing returns on February 27 & 28. The Take-Four lift will be open to Midway with the Lower Peacemaker ski run and Terrain Park under the lights. Tickets from 4:00 - 9:00 pm will be $30, tickets from 12:00 – 9:00 pm will be $54. Season passes will be valid for both days of night skiing, and Midweek season passes will be valid for Friday night skiing. In addition, Powderhorn will host a USASA Night Rail Jam on February 28. For more information about spring events at Powderhorn, visit http://www.powderhorn.com/special-events.
Steamboat
Bud Light Rocks the Boat Free Concert Series - March 7, 14, 21, 28
The Steamboat Ski Area will again be rocking during the winter ski and snowboard season as the Rocks the 'Boat Free Music Series returns for the 16th season, offering a great mixture of various musical genres. The Rocks the 'Boat series has brought together everything from bluegrass and New Orleans style rhythm & blues to a traditional Irish sound to flat out rock and roll. The spring line-up includes: The Grovetrotters on March 7; Nahka and Medicine for the People on March 14; 6 Million Dollar Bandon March 21, and the Wheeland Brothers on March 28. For more information, visit www.steamboat.com/concerts.
US Freestyle Championships - March 27 - 29
Freestyle skiing makes its return in late March as the Steamboat Ski Resort hosts the 2015 US Freestyle Championships, featuring the America's best men and women mogul and aerial athletes, including Olympic, World and National Champions. The 2015 Championships will take place across the Park Smalley Freestyle Complex, which consists of the Voo Doo aerial venue and the 1,000-foot vertical long adrenalin generating Mayer's Mogul Course. Steamboat has launched numerous athletes on their way to the pinnacle of the sport including World Champion Ann Battelle, Olympic medalists Nelson Carmichael and Travis Mayer as well as 2014 Olympian and US Champion Eliza Outtrim. For more information, visit www.steamboat.com
Sunlight
Defiance Challenge - March 6
The Defiance Challenge features ten hours of skiing on expert terrain. Lifts open at 7:00 am and close at 5:00pm. Proceeds from the event are split between the Sunlight Ski Patrol and the family of a fallen patroller with the National Ski Patrol. Registration is $150.00 per team and includes event hat, T-shirt, lift ticket, after event dinner and party. For more information, visit www.sunlightmtn.com.
Melanoma Awareness Day - March 7
Sunlight will host free skin screenings in the lodge from 10:00am – 2:00pm as well as a prize drawing featuring a Sunlight Season Pass and other prizes. All proceeds are directed to the Melanoma Research Foundation. For more information, visit http://www.sunlightmtn.com.
Telluride
Mountain Town Get Down - March 28 - 29
Two days of sun, goggle tans and good vibes return to Telluride with the second annual Mountain Town Get Down. The event kicks off on Saturday, March 28 with free live music performances in the Mountain Village. Saturday free shows include Dustbowl Revival (bluegrass), The Expanders (Reggae) and Iration (reggae) performing throughout the day under the sun to an all ages crowd. Then, on Saturday night, The Cold War Kids will rock the Telluride Conference Center.
The weekend continues on Sunday, March 29 with the annual Bikini Slalom and Luau at Gorrono Ranch on Telluride Ski Resort. Discounted ski & stay packages are available across the destination. Full details on the event and stay & ski packages can be found at www.tellurideskiresort.com.
Winter Park Resort
The 40th Annual Wells Fargo Ski Cup – February 20 - 22
The Wells Fargo Ski Cup, one of the biggest and best adaptive ski events in the world, celebrates its 40th anniversary with a weekend featuring world-class disabled ski racers, Denver celebrities, Broncos alumni and amateur skiers/snowboarders coming together to benefit the National Sports Center for the Disabled (NSCD).
The weekend is highlighted by three races, the Sports Authority Corporate Cup, a Pro Am style race where teams of five friends, family or coworkers are paired with an NSCD Competition Center athlete and compete for prizes; the Denver Health Kids Snowplow Sprint, which features up-and-coming NSCD athletes and able-bodied young skiers; and the Wells Fargo World Disabled Invitational. The weekend also includes a giant silent auction with items perfect for any budget. For more information, call the NSCD at (303) 293-5711 or visit http://www.winterparkresort.com.
Wolf Creek
Fun Races, Local Appreciation Days, College Days and Clinics in February and March
Fun Races at Wolf Creek Ski Area are free and open to skiers and boarders of all ages and abilities with a dual race format. The course is set up in a modified giant slalom. Participants can compete for medals in a variety of age brackets. Races begin at 11:00 a.m.; awards are at 3:30 on the sun deck of the main day lodge.
Local Appreciation Days at Wolf Creek offer all guests a discounted lift ticket. No I.D. is required, everyone is a local that day. Lift tickets are $41 for adults and $24 for seniors and children. College Days offer students with a valid college photo I.D. a break from the books and a $41 discounted lift ticket. For a calendar of races, local appreciation days, and clinics visit www.wolfcreekski.com.