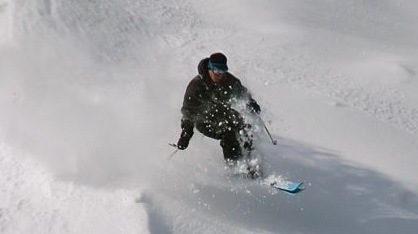 Colorado skiers and snowboarders won't have to wait much longer to satisfy their craving for turns. Arapahoe Basin is opening Oct. 17 for the season, and Loveland Ski Area won't be far behind. Good snowmaking conditions have enabled both areas to lay down a solid base of snow on a couple of trails.
A-Basin will operate one lift, the Black Mountain Express, running from the base up to mid-mountain, with skiing on the intermediate High Noon run. The ski area will continue making snow as conditions permit to open more terrain.
Fair weather is expected through the weekend and early next week, with a developing Pacific storm system hinting at more natural snowfall by the middle of next week.
Copper Mountain snowmaking has also been under way for a couple of weeks to prepare for the scheduled Oct. 31 opening day.
This season, Copper is trying to entice newcomers with a $199 program that includes three ski or snowboard lessons, lift tickets, equipment rentals, close-in parking, and lunch. Upon graduation and completion of the third lesson, Copper will toss in a free season pass so guests can continue to progress for remainder of the 2014/2015 winter season. Additionally after graduation, guests will also receive 50 percent off their 2015/2016 Copper Mountain Season Pass.
To complement the program, Copper has created a new terrain-based learning area called Green Acres, located between Center Village and East Village. The entry-level man made features, such as banked turns and a mild mini-pipe, teamed with progressive teaching principles allowing beginners to explore various snow sliding sensations while the mountain and gravity do all the work.
Guests must be 16 years or older and completely new to the sports of skiing or snowboarding to participate and the third lesson must be completed on or before April 5, 2015 to be eligible for the complimentary 2014/2015 Copper Mountain Season Pass and discounted 2015/2016 season pass. Ski and Ride U can be purchased in person at the Guest Services or Mountain Sport Sales Center located in the Copper One Building in Center Village. For more information on Copper's Ski and Ride U visit CopperColorado.com/SRSU.