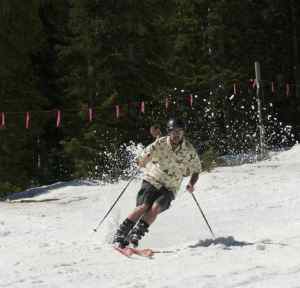 Colorado skier-visit numbers have been on a wild ride since the last five years, slumping after the big recesssion, recovering to near-record levels during the super-snowy 2011 winter. Since then, weather and snow appear to be driving the train.
Periodic reports from Colorado Ski Country USA from the last few years show intra-seasonal variations, with lulls during low-snow periods, and spikes when there's plentiful powder.
The 2012-2013 season was a perfect example, as late-season snow boosted visits during the big spring break period. Some resorts even extended their seasons by a weekend or two. Most resorts closed with the deepest base of the year, a stark contrast from the previous season when record March warmth forced an early shut-down for some resorts.
In 2012-2013, visits to all Colorado ski areas recovered from another slow start, reversed last season's downhill slide and rebounded 3.95 percent above last winter's totals, according to figures released by Colorado Ski Country USA. Visits to all Colorado resorts totaled 11.44 million during the winter of 2012-2013.
For the 21 areas that are members of CSCUSA, visits totaled 6.4 million, up about 3.8 percent (about 235,000 skier visits) from the previous season.
Colorado resorts outperformed the rest of the Rocky Mountain region, which tallied a 1.9 percent increase, but fell short of the national overall increase of 11 percent. The biggest growth nationally was in the Pacific Southwest and Northeast regions, which showed increases of more than 20 percent as they rebounded from a horrible snow year the previous season.
CSCUSA officials said variable snow conditions and some late openings slowed the start of this past season.
"In-state visitors tend to lead the charge in the beginning of the season, but an unusually warm fall kept local skiers and riders from logging in those early ski days," said Melanie Mills, president and CEO of CSCUSA.
"It wasn't until mid-December that the snow really started to show up, but it showed up big time and made for a quintessential Colorado winter ski holiday at resorts," Mills continued.
Once resorts recovered from an early season snow deficit, conditions greatly improved in January and February and carried the momentum of a rebound season. Timely snowfall helped boost conditions during major ski holiday weekends in late winter and spring, helping to spur visits and revenue.
"January and February brought closer to average snowfall throughout the state and resorts saw skiers turning out in greater numbers," Mills said.
"We are very pleased with where we ended up for the … season and are thrilled to see such a strong recovery trend for both Colorado and the ski nation," Mills said. "This season concluded with momentum in our favor as our resorts continue to set the gold standard in the industry for skier experiences."
CSCUSA also emphasized skier safety in in its season-end press release, highlighting public outreach and award-winning safety programs at member ski areas. There were eight skier deaths in Colorado during the season, and the trade group said the odds of a fatal accident on the slopes is a miniscule 1.4 in 1 million.