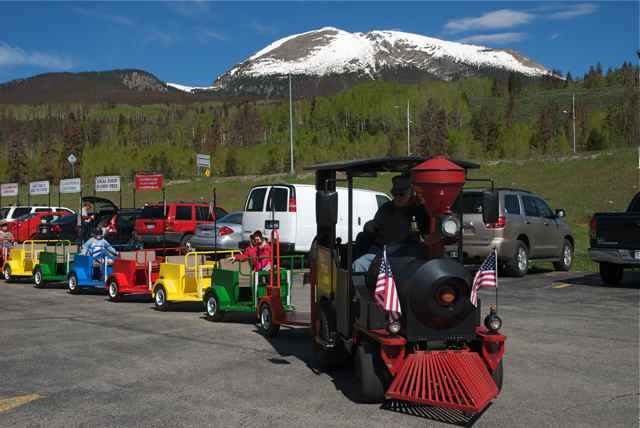 Denver's second largest industry will honor some of its top leaders at the Denver & Colorado Tourism Industry Hall of Fame dinner and silent auction, March 20, 2014, at the Seawell Grand Ballroom at the Denver Center for the Performing Arts.
Six "Tourism Star" awards will be presented to organizations, attractions, and individuals that had a significant impact on Denver's tourism industry during the preceding year. Winning Tourism Stars are a trio of Denver cultural attractions (the Denver Art Museum, Denver Center for Performing Arts/Denver Center Attractions/Denver Center Theatre Company and the Denver Museum of Nature & Science); Denver Mountain Parks; Chef Jennifer Jasinski; and the Solheim Cup.
"There are always a number of people and organizations that step up and make outstanding contributions to our industry, but 2013 was an exceptional year," said Richard Scharf, president & CEO of VISIT DENVER.
The 15th Annual Tourism gala will also induct five people into the Denver & Colorado Tourism Hall of Fame: Epicurean Group CEO & Founder Larry DiPasquale, Denver March Powwow Executive Director Grace Gillette; Colorado Rockies Owner Dick Monfort; and Director of the Greenway Foundation, Jeff Shoemaker with a special posthumous award to his father, the Founder of the Greenway Foundation, Joe Shoemaker.
The Tourism Hall of Fame serves as the highest award for Denver's travel industry – which registered its best year ever in 2012 with 13.6 million overnight visitors, generating more than $3.6 billion in spending. The industry supports 50,000 jobs in the metro area.
The gala is a fund-raising event for the VISIT DENVER Foundation, which has given out more than $545,000 in scholarships to 214 Colorado students pursuing higher education in the fields of tourism and hospitality.
For ticket information, please contact Lindsey Riddle at [email protected] or (303) 571-9405.
Winning "Tourism Stars" in 2013 will be:
A Denver Trio of Cultural Attractions
Denver Art Museum
Denver Center for Performing Arts/Denver Center Attractions/Denver Center Theatre Company
Denver Museum of Nature & Science
Once again, Denver's cultural attractions stepped forward with an amazing array of special events that helped drive overnight visitors to the city. In 2013, the Denver Art Museum presented Passport to Paris, an original exhibition that helped book hundreds of hotel packages.
The Denver Center Theatre Company staged the world premiere of Sense & Sensibility, which played for two months, while Denver Center Attractions presented an array of blockbuster Broadway shows in the Buell Theatre, including the return of the national tour of The Book of Mormon, making it one of the busiest theatres of its size in the nation.
The Denver Museum of Nature & Science created Mammoths & Mastodons and brought in the highly popular Mythbusters: The Explosive Exhibition, while finishing its new space, the 126,000 square-foot Morgridge Family Exploration Center, in preparation for the opening of Maya: Hidden Worlds Revealed in early 2014.
Denver Mountain Parks, celebrating their 100th anniversary in 2013
Denver's Mountain Park system is unique. With legendary parks like Red Rocks Park and the Buffalo Bill Museum and Grave, this 14,000 acre park system covers four counties and ranges in elevation from 6,000 to 13,000 feet. It is one of Denver's most cherished tourism icons. From grasslands to glaciers, bison to Buffalo Bill, Denver's 46 Mountain Parks are unique not only for their incredible range of scenery and activity, but because all of them are located outside of the city's borders, most less than an hour's drive away. The Mountain Parks preserve examples of every life zone found in Colorado, from windswept prairie to alpine tundra high above timberline, they have been bringing tourists to The Mile High City for 100 years.
Jennifer Jasinski
Jennifer Jasinski had an incredible year in 2013, helping to gain national publicity for Denver's culinary scene by both winning the James Beard Foundation's 2013 "Best Chef Southwest" and by competing well on Bravo Channel's nationally televised "Top Chef Masters." Jasinski opened her first restaurant, Rioja, in Denver's Historic Larimer Square to critical acclaim in 2004, featuring a menu inspired by Mediterranean ingredients and influenced by local and seasonal products. She and business partner Beth Gruitch acquired Bistro Vendôme, a French bistro across the street from Rioja in 2006, and opened Euclid Hall Bar & Kitchen just around the corner in 2010. The pair will open Stoic & Genuine at Denver's Historic Union Station later this year. Chef Jen was named 2004 Colorado Chef of the Year and 2005 Western Regional Chef of the Year by the American Culinary Federation. Rioja is consistently listed among Denver's top restaurants by The Denver Post, 5280 Magazine and the Gabby Gourmet Restaurant Guide. Jasinski has been named Best New Chef, Rising Star, Best Chef and more in Denver Magazine, Restaurant Hospitality, Nation's Restaurant News, The Denver Post, and 5280 Magazine.
Solheim Cup
The 2013 Solheim Cup held at the Colorado Golf Club in Parker, Colorado, the week of August 13th through the 18th is a biennial team competition that showcases the world's best female professional golfers in a match between the United States and Europe. Similar to the PGA's Ryder Cup, it is a three-day match play event between teams of twelve players. Although the European Team was victorious with a recording-setting score of 18-10, the real "winner" was Colorado. The state was promoted across several media platforms and received the most television coverage in the event's history, reaching 77 countries and more than 190 million households particularly in Denver's top tourism markets in Europe. The event generated millions of dollars of publicity, and millions of direct spending by players, sponsors, fans and media.
For more information about The 15th Annual Denver & Colorado Tourism Hall of Fame, please visit TourismHallofFame.org.