FRISCO, CO — The National Weather Service has issued a winter storm watch for nearly all the mountains in western Colorado, where four to eight inches of snow could fall by the end of Saturday, before fair and mild weather returns next week.
The forecast precipitation is courtesy of a Pacific storm moving inland from Southern California. As the system swirls across the Great Basin and later, Colorado, it will pull in plenty of subtropical moisture as well as cold air from the Gulf of Alaska. Under the current forecast models, those ingredients are expected to mix right over the state, bringing the first winter-like storm of the season to the area.
Snow will start in southwestern Colorado Friday in the warm sector of the storm, with the south-facing slopes of the southern and central mountains favored. As the system passes by, the flow will shift to the northwest, favoring the northern mountains, including Copper Mountain and Vail Friday night and Saturday morning.
Snowfall will wind down Saturday afternoon, with a few flurries, along with cold temps, lingering in the northwestern mountains. Highs Saturday and Sunday will be in the 40s, with lows in the 20s. By Monday, highs will climb back to seasonal norms in the low to mid-50s.
Copper has already been making snow for about a week, with parts of the upper mountain already in good shape for the start of the training season. Traditionally, ski teams from around the world start their North American season at Copper to prepare for races at Beaver Creek and Aspen.
Starting last year, the U.S. Ski Team speed training center enables racers to practice on a full-length course off the Super Bee chair. Recreational skiers benefit when the season starts with solid top to bottom coverage on about 2,000 vertical feet.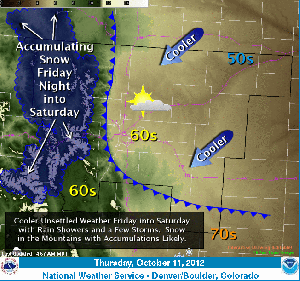 Accumulating snow expected over the Colorado mountains Friday night and Saturday.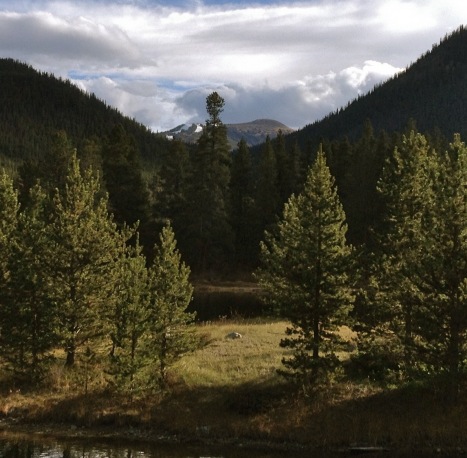 It's a little tough to see, but look close, and find the patches of white at the top of Copper (upper left-center of image) where snow makers have been busy for the past week.