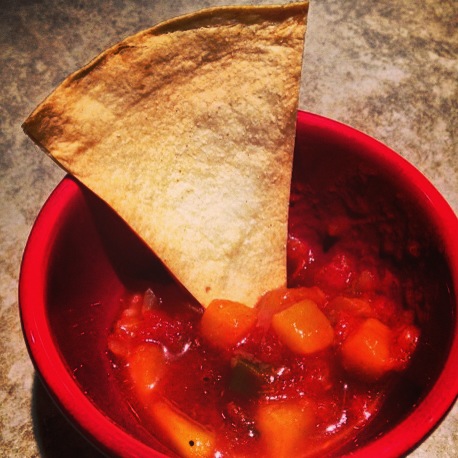 One of the best things about staying at a Copper Mountain condo is the fact that you can cook your own meals in a fully equipped kitchen. That doesn't mean you shouldn't ever step out to sample local eateries, but let's face it, after a satisfying day on the mountain, sometimes it's nice to just put your feet up by the fireplace and enjoy your home away from home.
All of our Copper Mountain rental condos are equipped with everything you need (except the food!) to cook a tasty meal, or at least some great appetizers you can enjoy with a post-skiing beverage, or perhaps a nice desert to end the day on a sweet note.
Cooking at high altitudes can be a little tricky, but it's not impossible. Read our blog post with high-altitude cooking tips here. There are also some simple recipes that are easy to make no matter what elevation you're at, including one of our favorite appetizer, homemade chips.
All you need is a packet of flour or corn tortillas, a little bit of cooking oil, your favorite seasonings and a baking sheet.
While you're preheating the oven to 375 degrees, lay out your tortillas on cutting board, brush them lightly with a little bit of oil (we like toasted sesame) and sprinkle them with your favorite seasoning, like garlic salt, chili powder or a mix of Italian herbs.
Then cut them into triangles, spread them on the baking sheet and bake for five minutes, flip them over and bake for another three or four minutes, and voila, best chips ever!
Just grab a jar of your favorite salsa, crack open a beer or a soda and enjoy.
It's true that baking can be a challenge at altitude, but there are some things that are easy to make, including an all-time favorite, chocolate brownies. We recently found a recipe that we use all the time. It's great for condo cooking because you don't need a lot fancy ingredients, just the basics. Here's the recipe, courtesy allrecipes.com:
1/2 cup vegetable oil

1 cup white sugar

1 teaspoon vanilla extract

2 eggs

1/2 cup all-purpose flour

1/3 cup unsweetened cocoa powder

1/4 teaspoon baking powder

1/4 teaspoon salt

1/2 cup chopped walnuts (optional)
Directions
Preheat oven to 350 degrees F (175 degrees C). Grease a 9x9 inch baking pan.
In a medium bowl, mix together the oil, sugar, and vanilla. Beat in eggs. Combine flour, cocoa, baking powder, and salt; gradually stir into the egg mixture until well blended. Stir in walnuts, if desired. Spread the batter evenly into the prepared pan.
Bake for 20 to 25 minutes, or until the brownie begins to pull away from edges of pan. Let cool on a wire rack before cutting into squares.
Follow Copper Condos on Twitter — that way you'll know when we post some more condo cooking recipes, or we'd love to have you as part of our Facebook community.