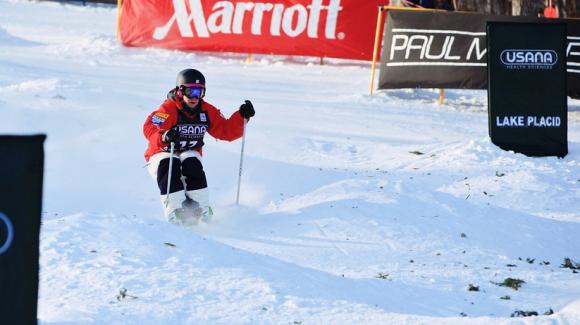 Winter sports enthusiasts at Copper Mountain will be watching this year's lead up to 2014 Sochi Winter Olympics especially closely, as local skier Mikaela Matthews aims for a spot on the U.S. Freestyle Mogul Ski Team.
Matthews was a member of the Copper Mountain Ski Team and the "Mini World Cuppers" when she was six years old, and once wore a nametag as an employee of the Copper Mountain Banquets department that read, 'My name is Mikaela Matthews and my passion is Freestyle Skiing.' Her passion for the sport and her love of Copper Mountain continue to grow.
"Copper Mountain is my home. It's where I was first introduced to skiing, a ski team and a sense of camaraderie that it entails," Matthews said. "Copper has always been supportive of Team Summit and myself, and I'm really excited to be able to promote and represent Copper around the globe throughout my skiing."
"We are extremely honored to support an athlete such as Mikaela and have her represent Copper Mountain in an Olympic year. She grew up within Copper's ski programs and in local race clubs and embodies the progression that Copper and Woodward strive for," said Jesse True, vice president of marketing and sales.
Today, Matthews is ranked 11th in the world in Freestyle Mogul skiing. Shequalified for the U.S. Freestyle Ski Team at only 17 years old and earned her first podium spot at a World Cup competition in Japan last season. She ended the season with seven top-10 finishes, including a silver medal at the U.S. Freestyle Championships in Heavenly, Calif.

The training programs that Matthews started with at Copper Mountain in 1997 have evolved to become season-long Ski and Ride School programs, where hundreds of kids learn and fall in love with skiing and snowboarding every year. They are now called Trailblazers, (ages 3 – 5), Scooters (ages 4 -12) and Choppers (ages 8 – 18).

Copper Mountain also has been a longtime supporter of ski and snowboard race team training in the early season.

"Copper Mountain has been very generous with early season training," she said. "The resort's dedication has given local ski teams a chance to get on snow for training in order to be prepared for the first competitions of the year. This training is always paramount to starting off a successful competition season."

When Matthews is at her home mountain she also trains at the 23,400 sq. ft., newly renovated Woodward at Copper Barn.

"It's a wonderful place to practice some new tricks or to refine old ones, both on the trampolines and SkateLite ramps," she said.

Read more about Mikaela Matthews and her path to the 2014 Winter Olympics at [url=http://www.coppercolorado.com/winter/blog]http://www.coppercolorado.com/winter/blog[/url] or be her fan at facebook.com/MikaelaMatthews.