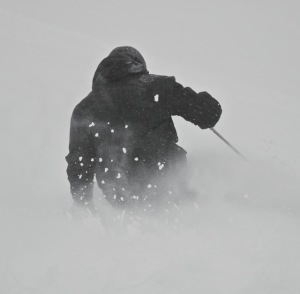 Skier in Colorado enjoying fresh February powder. Bob Berwyn photo.
FRISCO — A week of on-and-off stormy weather at Copper Mountain freshened up the slopes just in time for the big mid-winter holiday ski weekend. All Summit County ski areas have picked up close to a foot of snow in the past 7 days. Sunny and warm conditions are forecast for the weekend, with a chance of snow in the forecast Sunday night and more showery weather through mid-week.
Ski areas may not be reporting massive base depths, but with a solid three feet on the ground at most reporting stations, most areas reported opening new terrain with the fresh snow this past week, including Arapahoe Basin, which was able to open big slices of Montezuma Bowl.
Copper reported 12 inches of snow in the past week, 8 inches in the past two days, and ski patrol is planning to allow some directed skiing in Spaulding Bowl and the West Ridge of Copper Bowl this weekend. The resort is also reporting good conditions on Union Peak for expert skiers, as well as powdery conditions for blue skiers in the Timber Ridge to Windsong area. Copper is reporting a 43-inch base with about 1,700 acres of terrain open. Check the full mountain report.
The National Weather Service is calling for more snow this coming week, so if you can sneak away for a couple of powder days, check our last-minute deals page.
Follow us on Twitter.