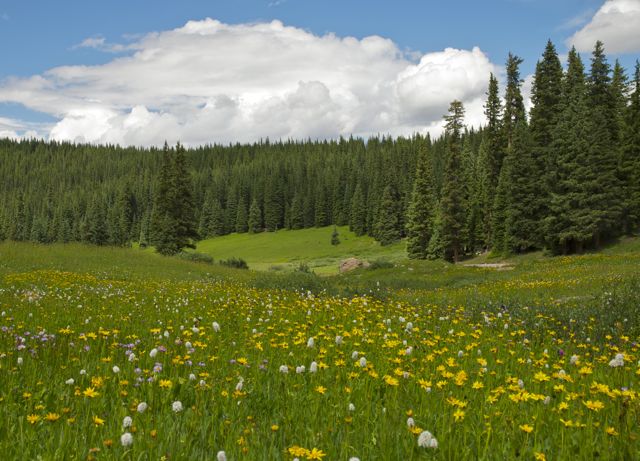 COPPER MOUNTAIN — Hiking is great, and cycling at 9,0000 feet elevation is a definitely a good workout, but sometimes there's nothing like a little road trip to feel the summer vibe. From a base camp at one of our Copper Condos, you can explore a slice of the Colorado high country on backcountry roads, far away from speeding highway traffic. So pack your camera, binoculars and a picnic and join us for two of our favorite off-highway backcountry tours.
Shrine Pass
Our first tour starts just a few miles west of Copper at Vail Pass, where you turn off I-70 at exit 190 and follow the signs for 11.2-mile Shrine Pass Road (Forest Service Road 709), once the main east-west between Summit and Eagle counties. The road ends at Red Cliff, a funky, old-school town in the Upper Eagle River Basin. Although it's formally designated as a four-wheel drive road, it's passable by regular passenger cars; just drive slowly on the bumpy parts!
At the start, the road switchbacks a few times, climbing steeply, with great views of Copper Mountain to the east. After about 1 mile, the road levels out, tracing a path next to spectacular red sandstone bluffs to the north and broad, flower-filled valley to the south — one of the best wildflower spots in the area, and if you happen to be in the area during a meteor shower, this part of the road offers some of the best 260-degree views of the night sky. In the late summer, and especially autumn, you may see large herds of elk congregating on the sparsely forested hillsides to the south.
After topping out at 11,089-foot Shrine Pass, it starts to drop, winding through thick evergreen forest. Here, keep your eyes peeled for elusive lynx, a wild cat that was trapped and hunted to near extinction but is now making a comeback in the area. Be sure to stop at the turnout for the Mount of the Holy Cross view area, where a short walk leads to an overlook of the peak that served as a landmark for early settlers.
After the stop, the road continues to drop into the Turkey Creek drainage, where autumn leaf-peepers enjoy the views expansive aspen stands. At Red Cliff, you can either turn around and retrace your path back to Copper or turn north on Highway 24 which will take you back to I-70 for the short return trip over Vail Pass to Copper. If you choose this route, be sure to stop at the historic Minturn Saloon, which once got a New York Times write-up for its margaritas.
Upper Colorado River Road
The trek along this historic wagon route and railroad track makes for a full day's excursion from Copper, but is well worth the time — nowhere else can you drive this close to the Colorado River, and there are numerous spots where you can get out of your car and get right to the river's edge. Part of this trip is on the officially designated Colorado River Headwaters Scenic byway.
From your Copper Condo, start by heading west on I-70, past Vail and Edwards to the junction with Highway 131, where you'll turn north, heading through some rolling sage and scrub oak country that's quite a contrast to the pine forests around Copper Mountain.
First stop is historic State Bridge, one of the first Colorado River spans in this region, built with about $6,000 of state money in 1890. Today, this crossing point is home to a lively lodge and restaurant, as well as a campground and an outdoor concert venue that's acknowledged as one of the best laid-back places to see live music on the Western Slope. It's also the downriver take-out spot for rafters and kayakers running the Upper Colorado River.
At State Bridge, head northeast on Trough Road, which first climbs up over a bluff with stunning views over the river, then drops back down and crosses back over to the south side of the Colorado. Continue along the road to Rancho del Rio, a funky riverside resort that's pretty much the headquarters for rafting, kayaking and standup paddle-boarding.
Continue heading east while watching for bald eagles and deer in the sage and piñon-covered slopes of this stunning valley. Just west of Kremmling, the road once again climbs steeply where the river carved a deep canyon through the heart of the Gore Range. A few miles later you'll end up back on pavement at Kremmling, where you'll head south on Highway 9 to Silverthorne, to pick up westbound I-70 for the trip back to Copper.
Read about Mayflower Gulch, another one of our favorite backcountry spots near Copper here, and learn why locals love mud season here.