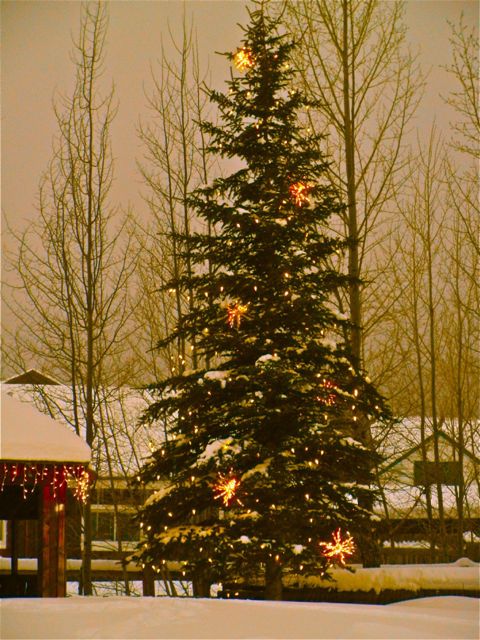 Frisco will once again celebrate the holiday season wassail style, featuring fun events and contests for the whole family. The "official" kickoff is Friday, Dec. 5, when carols will ring out on Main Street, with the holiday tree lighting set for 6 p.m. at the Frisco historic park gazebo. The town will also light Main Street with 500 luminarias for an extra dose of mountain magic.
Saturday, December 6, Santa will visit with boys and girls at the Frisco Historic Park Museum between 10 a.m. and 12 p.m. to find out what their fondest wishes are for the holiday season, along with more caroling from 12 p.m. to 2 p.m.
Sunday, December 7 features The Soup Cup Classic at the Frisco Adventure Park Day Lodge. Local restaurants and amateur cooks will duke it out for the titles of best professional soup and best amateur soup respectively. The guests will be the judges as they sample soup and vote for their favorite professional and amateur soups.
Tickets are $30 for adults and $15 for kids 12 and younger and include unlimited soup tasting, 2 drinks (New Belgium beer for guests 21 and older) and 2 hours of unlimited tubing from 4pm-6pm (a combined $50 value). Tickets are available for purchase online or at the door. Bring a new toy for the Summit County Adopt an Angel program and you will be entered into a door prize drawing for a family tubing season pass.
Thursday, December 11 is a free day at the Frisco Adventure Park, with 30 minutes of free tubing on a first come, first tubing basis for the first 200 people. Tubing begins at 10am and a session goes out every 15 minutes with the last free tubing session going out at 11:30 a.m.
The Frisco Nordic Center will offer free skiing and snowshoeing and free ski and snowshoe rentals from 9am-4pm. This is an exceptional opportunity to check out cross-country skiing and snowshoeing at the beautiful Frisco Nordic Center.
Two Below Zero will offer free 30 minute horse drawn scenic sleigh rides at 2:30pm and 3pm. Availability is limited. Please call 970-453-1520 to make reservations.
More events:
Friday, December 12
4pm-7pm: Wassail Night at the Museum- Guests are invited to experience a cozy winter evening at the Frisco Historic Museum with an afterhours celebration. Apple cider, cookies, stories and music will be enjoyed in the Museum which will be decked out for the holidays.
Saturday, December 13
9am-11am: Breakfast with Santa at the Backcountry Brewery- This breakfast with the holiday's favorite big guy benefits the Summit County Preschool. Reservations are required – call Summit County Preschool at 970-668-5508 ext 1.
11am-1pm: Santa Visits- Santa will visit with boys and girls at the Frisco Historic Park Museum to find out what their fondest wishes are for the holiday season. Santa loves it when parents bring their cameras and take pictures of Santa with the kids.
4pm: Inaugural Ugly Sweater Challenge- Ugly holiday sweaters are required at this event which celebrates all things holiday with a tongue in cheek challenge on Main Street. Participants are invited to take on 5 "holiday challenges" from 7th Avenue to the finish at the Frisco Historic Park. Challenges will include traditional holiday tasks like target practice with fruit cakes and eggnog shooters (nonalcoholic to keep participants in top form). Awards will be followed by an ugly sweater after party at Greco's.
Prizes will be given out for best ugly holiday sweater, best team of ugly holiday sweaters and best dog ugly holiday sweater. Registration is $15 per person. Dogs and children under 5 are free. Registration includes a Frisco beanie, a chance to show off your sweater and a bunch of glory for participating in the inaugural year. Register now!
4pm-6pm: Carolers will make their way up and down Main Street filling the town with good cheer and holiday music.