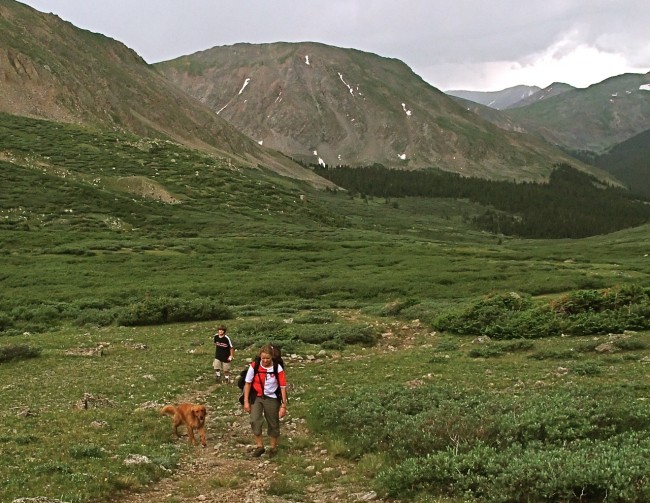 One of the best reasons for using our Copper Mountain vacation lodging as a basecamp for a summer getaway is the incredible access to YOUR national forest lands. You can take a short hike to spectacular lakes and wilderness areas, wildflower meadows and waterfalls, or forest four-wheel drive roads. And with Memorial Day just around the corner, thousands of travelers are getting ready to kick off the summer outdoor recreation season.
"The White River National Forest offers more than 2,500 miles of trails, 50 campgrounds, picnic areas, boat ramps and other developed recreation sites. More than 12 million people visit this forest every year," said Scott Fitzwilliams, Forest Supervisor for the White River National Forest. Most forest visitors enjoy the forests without incident, but there are always potential dangers involved with outdoor recreation. Part of enjoying the outdoors is understanding those hazards and knowing what to do to stay safe.
The U.S. Forest Service is encouraging visitors to "know before you go" as the first line of defense. Many forest areas throughout the White River National Forest are still inaccessible due to late-season snow and rain. Know the weather forecast, road conditions, fire restrictions and what to expect before arriving at a destination.
Some potential hazards for which to be aware this season:
The mountain pine beetle and spruce beetle continue to kill pine and spruce trees, leaving behind dead, dying and potentially dangerous tree stands. The U.S. Forest Service is continuing to remove these trees from developed recreation sites but there are many non-developed or minimally developed areas where they are still standing. Dead trees can fall at any time so don't camp or park near them, and keep away during strong winds.
Wildfires can start at any time. A careless cigarette or unattended campfire can start a wildfire. As conditions change, some National Forests may be under fire restrictions. Check with local Forest Service offices before embarking on a trip to the forest.
Heavy snowpack along the Continental Divide in Colorado has extended winter recreation, but increased avalanche danger. Check snow and avalanche conditions before venturing into the back country.
Due to high run off, late-season snow and wet conditions, some recreation areas or roads may remain closed later than usual. Saturated soils also have the potential to cause landslides and road slumping. Be prepared to turn around when slides have crossed roads or roads have eroded away.
Flash floods can occur at any time, even if you don't see any rain. Check the forecast before you head out and be extra cautious when camping near stream bottoms or low lying areas.
Ten helpful safety tips to remember:
Be aware of your surroundings. Avoid dense patches of dead beetle-killed trees; they can fall anywhere, anytime and without warning.
Stay out of the forests when there are high winds. Strong winds blow down trees. If you're already in the forest, find a clearing that's out of reach of any trees that could fall. Check the forecast before you head out.
Place your tent and park your vehicle in areas that can't be hit by a falling tree.
Make camp before dark, and never hike or camp alone without telling someone your itinerary.
Bring an ax or chainsaw with you, in case you become trapped along a road by a fallen tree. Know alternative routes out in case of landslide or road failure.
Don't completely rely on your cellphone for safety. There is limited or no cellphone coverage in many areas of your national forests.
Avoid low lying areas or drainages during thunderstorms. A flash flood can occur even if the storm is miles away.
Build fires in fire rings or in developed camp sites, and never leave a camp fire unattended…ever!
Store food in bear resistant containers, locked vehicles or tied 10 feet up in a tree away from camp, and never feed wildlife.
Always tell someone where you are going and when you intend to return.