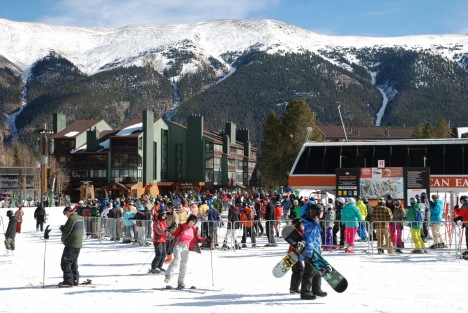 The destination tourism industry's Big Dogs are once again set to gather Jan. 31 for The Assembly 2014. This is a don't miss conference that presents both a fact-based and knowledge-based assessment of the current business climate, and identifies existing and emerging opportunities for growth in the mountain travel industry.
Early registration rates for the conference end December 20th, so if you want to attend, Register Now.
In the longer term, The ASSEMBLY seeks to establish an open environment that affords attendees the opportunity to identify areas for further collaboration among peer stakeholders and potential solutions to common issues.
Conference organizers say this year's edition will go broader and deeper. It will include an executive-level overview across the full spectrum of the destination travel situation, outlook and trendings with its foundation in winter but also encompassing summer.
Afternoon workshops feature roundtable discussions that will take an in-depth look at the issues and trends that most impact mountain tourism. Combined, this year's conference affords a comprehensive analysis of "what you ought to know" as a stakeholder in year-round destination tourism.
Some details from this year's agenda: Winter Assessment-360 will set the stage for a half-time evaluation of the 2013/14 season with a projection of season-end results.
Moderator: Nate Fristoe, Director, RRC
Panelists:
Michael Berry, NSAA
Kelly Davis, SIA
Melanie Mills, President & CEO, Colorado Ski Country
Nathan Rafferty, Ski Utah
Tom Foley, DestiMetrics
Outlook 2015 & CMO Round Table: The mid-term future of mountain tourism will be addressed through a SWOT (Strengths, Weaknesses, Opportunities, Threats) analysis creating a blueprint upon which future-year business plans can be constructed. This moderated roundtable discussion will feature chief marketing officers (CMO) from leading year-round mountain resorts, whose responsibilities include winter and summer attractions, lodging and retail.
Moderator: Dan Connolly, University of Denver
Panelists:
Ian Arthur, Intrawest
Christian Knapp, Aspen Skiing Company
Adam Sutner, Jackson Hole Mountain Resort
Tourism Trendings: Influencers, fads, trends, game-changers, disruptors, myth-busters, mandates. These are key strategic considerations that should be on the radar screen of forward-looking business leaders in destination mountain tourism.
Moderator: Ralf Garrison, DestiMetrics
Presenters:
Jake Carpenter, Burton
Brent Bellm, HomeAway
Steve Rice, CNL
In the afternoon we'll redirect the conversation and format to provide for more participation and interaction, with an array of discussion topics that dive deeper into the related strategic considerations. Below are our workshop current titles (subject to change/evolution):
Rise of the Metamediaries
Bed Base Assessment: Non-Traditional Lodging Deep Dive
Sizing Summer: The Economics of Summer and the Attractions that Drive It
The Evolution of Media
Consumers: "What makes them behave as they do?"
Economics of Attractions: Magnets that Make the Destination
Growing Your Own Business
Summer Experience: A View from the Inside and the Outside
Click here for more details on these workshops.