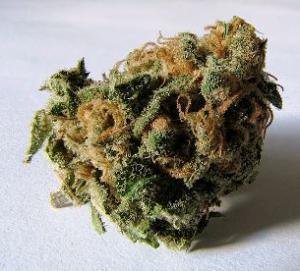 Along with enjoying the early season snowfall, several skiers and snowboarders at Arapahoe Basin's opening day also decided to test the limits of Colorado's new marijuana laws by lighting up their herbs near the top of the Black Mountain Express chairlift — a move that wasn't well received other guests, or by the ski area's management.
While it's true that personal use of marijuana is now legal in Colorado, that doesn't make it OK to light up a joint on the mountain, according to A-Basin chief Alan Henceroth, who promptly kicked the offenders off the mountain and pulled their passes.
Colorado law is very clear on this subject, specifying that it's not OK to smoke weed in public. Plus, the state law doesn't make it legal to smoke pot on federal lands. Arapahoe Basin, Copper Mountain, as well as all the other ski areas in Summit County, are located on national forest lands, where lighting up a joint is still a crime. Federal law enforcement officials have also been very clear on this matter, stating that they will continue to prosecute people for possession and use of marijuana on federal property.
Henceroth subsequently blogged about the incident — twice — unleashing a firestorm of comments. In his first post, Henceroth laid down the law as he sees it:
"Already I have kicked several people out of here and taken their ski passes for smoking in public. Those passes will be gone for a very long time. We will not hesitate to call the cops on this issue ... Marijuana smokers, please use your heads on this. You cannot smoke marijuana in public while at A-Basin."
As could be expected, his blog post drew more than 100 comments. Many people supported Henceroth's actions, saying that they don't want ski areas to turn into free-for-all drug zones. Other people called him out for hypocrisy, saying that, since A-Basin markets and sells alcohol as part of the ski area experience, he should ease up on his stance on marijuana.
In a second post, Henceroth took a more conciliatory tone, apparently acknowledging, at least implicitly, that post-smoking has long been part of the culture of skiing:
"I sincerely apologize to anyone I offended. That was not my intention. Many people read things into my comments that were not there. If I could rewrite my post, it would simply read, "Colorado's new law legalizes limited marijuana use. Consumption in public is not allowed. A-Basin is a public place ... That said, I am confident we can keep the vibe and the culture of A-Basin alive. I hope we can all enjoy this great place realizing the new law does not allow people to smoke pot in the lift lines, on the deck, in the restaurant, and other public places. I hope all of you will keep skiing and riding at The Basin."
The debate was also lively on A-Basin's Facebook page, where skiers and snowboarders posted similar pro and con comments.
Here are the facts:
Adults (21 and older) are allowed to possess up to one ounce of marijuana, and to cultivate up to six plants for personal use on private property.
Regulated medical marijuana use continues to be legal
Public use of marijuana is illegal
Underage use of marijuana remains illegal
Colorado has passed a law to regulate driving under the influence of marijuana
Marijuana use remains illegal on federal lands, which includes nearly all of Colorado's ski areas
Starting January 1, there will be legal sales of marijuana for personal consumption at licensed retail stores in Colorado
It's illegal to smoke inside any of the buildings or individual condo units at Copper Mountain, as per fire-safety and public health rules adopted by homeowner associations
It's illegal to ski under the influence of alcohol or other drugs at Colorado ski resorts, as per the Colorado Skier Safety Act