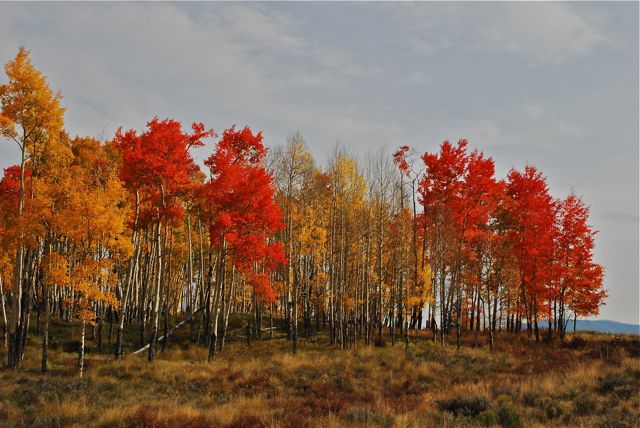 After a summer filled with exciting festivals and races, autumn brings a seasonal lull to Copper Mountain and Summit County. Crisp mornings give way to sunny, calm days perfect for peak bagging, and by mid-September, mountainsides come alive with a golden glow as vast stands of Aspen prepare for the cold season.
Locals revel in the fall season, and there's no reason you shouldn't do the same. Copper Mountain lodging prices are low, hiking trails are peaceful once again and you probably won't have to face the big traffic crunch heading back to the Front Range Sunday night.
This year will also be one of the best in recent memory to enjoy late-season water sports. A rainy spring and early summer have left Dillon Reservoir as full as its ever been this time of year, which means great sailing and boating right through September. Just a few miles from Copper, the Frisco Bay Marina has it all, from canoes and kayaks to stand-up paddle boards, all the rage in Summit County right now.
Anglers will also be pleased with water conditions in the high country. Streams and rivers are flowing strong enough to keep fish happy, but the waters have still to the point that the fly fishing is phenomenal in the Gold Medal Lower Blue, while bait anglers will almost certainly catch their fill in the many lakes and ponds around Copper Mountain. Check the Colorado Parks and Wildlife fishing report for the latest updates on conditions.
And in the season's feast for the senses, mountain aspen groves will soon glimmer with autumn gold. There's nothing like a hike or a picnic when the leaves are turning, and we've highlighted some of the best spots to catch fall colors in this blog post.
You can track the best time for fall colors at this U.S. Forest Service website, and follow Copper Condos on Twitter, where we'll keep you posted on the progression of the leaves. And if you want to plan a weekend getaway, check out our selection of Copper Mountain vacation rentals here.