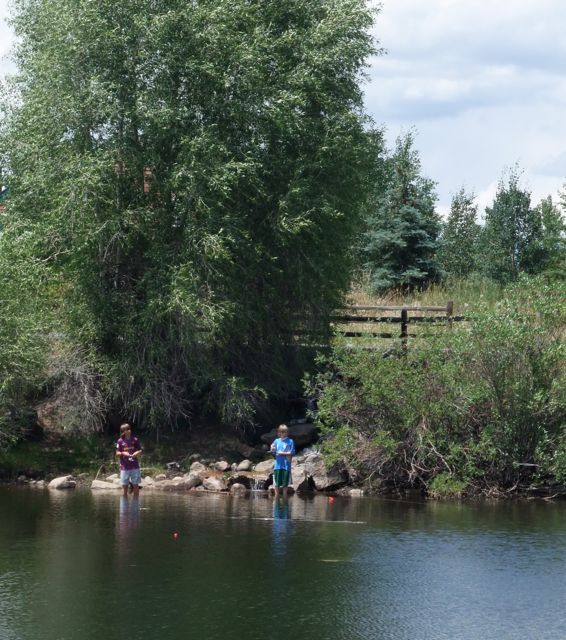 Trent Park in Silverthorne, Colorado, is a great fishing hole for kids.
SUMMIT COUNTY — Getting kids outside in the age of the internet, Wii, PlayStations and Xboxes isn't always the easiest thing, even on beautiful high country summer days, when sapphire dragonflies hover over the water and red-wing blackbirds trill from willow branches. But for some reason, perhaps that primal instinct to hunt and gather food for winter, fishing seems to do the job. Once they've landed that first splashy rainbow trout, most kids are hooked — and that's a good thing.
Summit County is a fine place to introduce youngsters to the basics of angling, with several ponds in the area that are perfectly suited to lazy afternoons spent drowning worms. Behind Wal-Mart in Frisco, the Meadow Creek Pond is well stocked with catchable fish, and there are even several fishing decks that make it easy for anyone to get access to the water.
Down in Silverthorne, Trent Park is another well-stocked pond where you aren't even allowed to fish unless you're a kid. When the youngsters are ready to step up a level, Silverthorne also stocks North Park pond with healthy fish to catch and release only, using artificial lures and flies. It's a great pond to teach kids the basics of fly-fishing.
And then there's the big water in Summit County, Dillon Reservoir. Full-service marinas in Frisco and Dillon have everything you need to stock a boat and troll the deep water, but part of the fun of fishing with kids is the exploration. There are plenty of hidden coves and beaches along the shoreline that don't see a lot of people. And Dillon Reservoir's reputation as an unproductive fishery is not entirely deserved. Clever anglers finding the right spot at the right time of day will be rewarded for their patience and persistence.
Their are other great spots in the area, including Rainbow Lake, also near Frisco, and Cataract Lake, in a wilderness setting at the north end of the county. Clinton Gulch Reservoir even harbors some cutthroats, the only trout that's truly a native of Colorado. In the higher elevations, beaver ponds along streams like the North Fork and Tenmile Creek are full of little brook trout. But I don't want to give away all the secret spots. After all, part of fishing is finding your own secret hole.