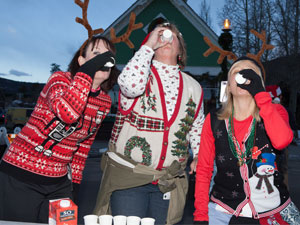 Frisco's quaint Main Street provides the perfect backdrop for snow-blanketed, cozy holiday celebrations. Local restaurants and specialty shops not only light up the street, but also warm the body during Wassail Days, Dec. 4-13. More than 60 businesses will compete for the best tasting hot-spiced cider, which you can sample for free, then cast your vote.
Visitors are encouraged to taste at least a dozen different types of the nonalcoholic beverage and fill their "12 Sips of Wassail Card," then turn it into the Frisco/Copper Information Center (located at 300 Main St., open from 9 a.m. to 5 p.m.) in exchange for a free, commemorative, and very cool Frisco Wassail Days mug. This really is a souvenir you don't want to miss; the 2015 design depicts Frisco's holiday light display, but they're only available while supplies last, so drink up.
Frisco's Wassail Days Events: Soup, Sweaters, Santa and More
Frisco's Wassail Days hardly end with secret, satisfyingly spicy recipes of hot cider tasting.
Friday, Dec. 4, Frisco lights its main tree, in the Frisco Historic Park Gazebo, at 6 p.m. Carolers parade up and down Main Street from 5-7 p.m., Friday, while 600 luminaries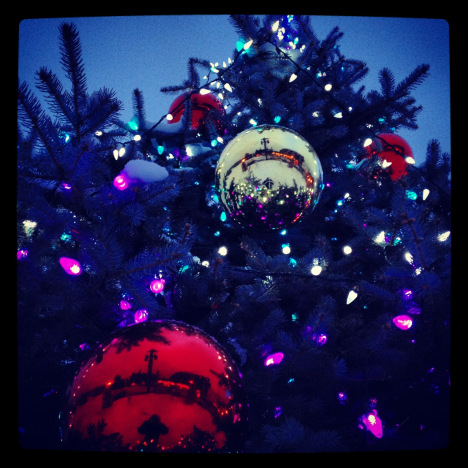 line Main Street. Harmonies blend with glowing candles in this magical start to the winter season, reminding us why small mountain towns invigorate our spirits so much.
Santa comes to Frisco Saturday, Dec. 5 from 10 a.m. to noon at the Frisco Historic Park and Museum, so bring your cameras and snap as many pictures as you want with the kids.
While you're there, stroll through the restored, artifact-filled cabins, which beckon to the days when gold called bold men and women to endure the Wild West. Then enjoy the carolers, who will fill Main Street with song, from noon to 2 p.m. Dec. 5.
Soup Cup Classic
The Soup Cup Classic, from 4-6 p.m. Sunday, Dec. 6, is a deal, since it includes two hours of unlimited tubing at the Frisco Adventure Park, unlimited soup samples (again, vote for your favorite soups, homemade by professional chefs and amateurs), and two free beers (New Belgium, nonetheless) for those 21 and older. Tickets are $30 for adults and $15 for kids 12 and under and are available at the door, beginning at 3 p.m., or online.
Free Activities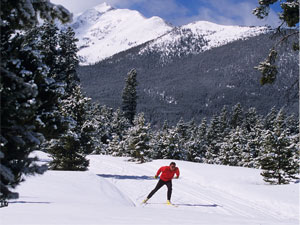 If you've ever wanted to try cross country skiing or snowshoeing, Monday, Dec. 7 is the day to do it, as the Frisco Nordic Center hosts a free ski and snowshoe day from 9 a.m. to 5 p.m. for locals with a Summit County identification (rentals are $15). Call (970) 668-0866 for reservations by 4 p.m. Friday.
If you don't live in Summit, you just may want to consider joining in the fun by at least looking at the Frisco or Copper Mountain real estate market for a mountain home or condo!
Free tubing at the Frisco Adventure Park is open to anyone, but you'll have to reserve your 30-minute spot, which runs between 4 to 6 p.m. Monday, Dec. 7, by calling (970) 668-2558. If you think skiing is a thrill, just try careening down a snow lane on a rubber disc.
Kids can get the call of a (kids') lifetime Dec. 8 when Santa calls them directly between 6 and 8 p.m. All you have to do is place a call request at noon (any day, up until Dec. 8) at any of the following locations: Frisco Town Hall, Frisco Adventure Park, Frisco Historic Park, Summit County Public Library, Summit County Preschool, Frisco/Copper Information Center or Stork and Bear Clothing Company.
Sounds of gentle jingle bells merge with squeaking snow as a horse-drawn sleigh takes guests for a 30-minute free ride. The enchanting seats — with blankets, of course — are limited during the 2:30 and 3 p.m. rides Thursday, Dec. 10, so call Two Below Zero at (970) 453-1520 to make your reservations.
Free cookies, apple cider, music and storytelling fill the Frisco Historic Museum from 5-7 p.m. Friday, Dec. 11. The museum, which transports guests back to a simpler time, will be decorated with Christmas trimmings.
Breakfast with Santa
Breakfast with Santa takes place from 8:30 to 11 a.m. at the Backcountry Brewery Saturday, Dec. 12. The pancakes and eggs may be at a Brewery, but on this morning, the restaurant is dedicated to kids' wishes and the big guy's jolly laughter. In addition to enjoying a yummy morning start and providing your kids with a memorable mountain holiday experience, you'll be supporting Summit County Preschool. Tickets are $20 for adults and $10 for kids. For reservations, call (970) 668-5508.
After Santa fills his own tummy, he'll be visiting with kids from 11 a.m. to 1 p.m. at the Frisco Historic Park & Museum.
Ugly Sweater Contest
Of course, no holiday is complete without ugly winter sweaters. At 4 p.m. Dec. 12, the Ugly Sweater Challenge commences at 7th and Main (while, ironically, carolers belt out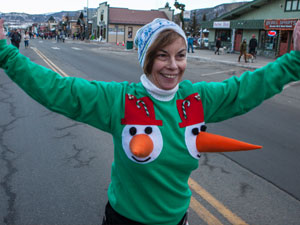 beautiful melodies until 6 p.m.).
Boldly clad participants parade down to the historic park, where games like flinging fruit cakes at targets and gulping eggnog shooters (alcohol-free, to keep participants in best form) take place.
Greco's Pastaria will host an after party, where the ugliest individual sweater wearer, the ugliest team, and the best dog ugly holiday sweater win awards.
Dogs are free, but adults and kids over 5 must register for $15 (Use the Online registration through Dec. 11, or head to the Frisco/Copper Information Center at 300 Main St. from 10 a.m. to 3 p.m. the day of the contest. (You can also call (970) 668-5547 or register at the start of the contest on 7th and Main St.)
Even if you don't win a coveted Ugly Sweater award, you'll score a pair of Colorado-made, Frisco socks, while supplies last.
Frisco Home Tour
While towns like Frisco and resorts like Copper Mountain light the way, some Frisco residents go all out for the holidays too. And now, you have a chance to tour enchanting Frisco homes, decorated for Christmas.
From 9:30 a.m. to 3 p.m. Saturday, Dec. 12, Frisco hosts the Holiday Mountain Home Tour, which benefits Timberline Adult Day Services.
Tickets, available at the Summit County Community and Senior Center (at 0083 Nancy's Place, County Road 1014) are $20. They're a bargain, as they include plenty of food, including a continental breakfast; a soup, salad and bread lunch; and dessert (from 11:30 a.m. to 1:30 p.m.), plus a Frisco Home Tour Map.
This year, a new holiday addition comes in the form of a whimsical Santa's village, at 529 Second Ave., in Frisco, on Dec. 12 from 2-5 p.m. Tickets are $5 at the door. For more information on this or the home tour, call (970) 668-2952.
Anyone can stop by the Community Center to see tabletop Christmas trees, decorated by local businesses for the silent auction, which closes at 1:30 p.m. Dec. 12.
For more information, on any of Frisco's holiday activities, call the Frisco/Copper Information Center at 800-424-1554.