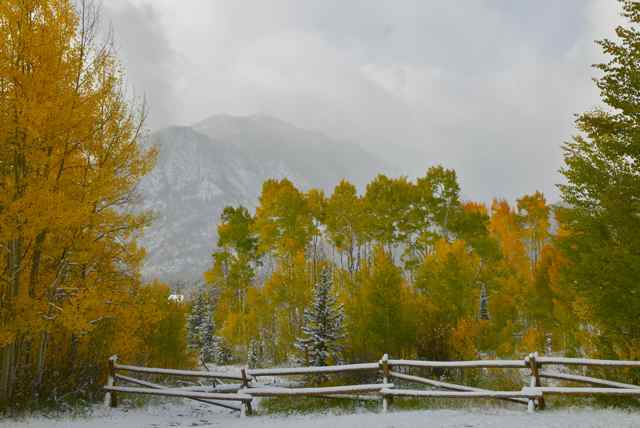 With another autumn snowstorm set to sweep through the Colorado Rockies, several ski area operators around Summit County are targeting mid-October opening dates. Loveland, Arapahoe Basin and Copper Mountain have all started snowmaking operations, so the ski and snowboard season will be here sooner rather than later.
For this week (Oct. 10), the National Weather Service is forecasting between 5 and 10 inches of snow for the higher elevations of the north-central Colorado mountains, along with nighttime temperatures ideal for snowmaking the next few days.
At Copper Mountain, snowmakers have already managed to coat the upper part of the U.S. Ski Team Speed Training Center, off the Super Bee Chair, with snow, and they're working their way down the mountain in anticipation of a Nov. 1 opening day.
According to a winter weather advisory issued for Summit County (including Copper Mountain), the heaviest snow is expected Thursday night into Friday (Oct. 11), with snow showers and cold temperatures lingering into the early part of the weekend. After a few days of warmer weather, yet another winter-like system may roll into the area the middle of next week.
Historically, A-Basin and Loveland have raced each other for opening day honors. Both areas are at high elevations along the Continental Divide, where the early snow tends to hang on. Both areas have opened as early as the first week of October, but the middle of the month seems more realistic this year.
Rumors of an Oct. 11 opening at A-Basin are probably overly optimistic, according to A-Basin chief Alan Henceroth, who posts updates on snowmaking operations on his blog. Henceroth said snowmaking has been on and off the last couple of days because of variable temperatures. On the plus side, a rainy summer has boosted stream flows, so the ski area has plenty of water available for the snow guns.
It won't be long now!
Follow Copper Condos on Twitter for daily updates and join our Facebook page to see what our friends have to say about Copper Mountain.