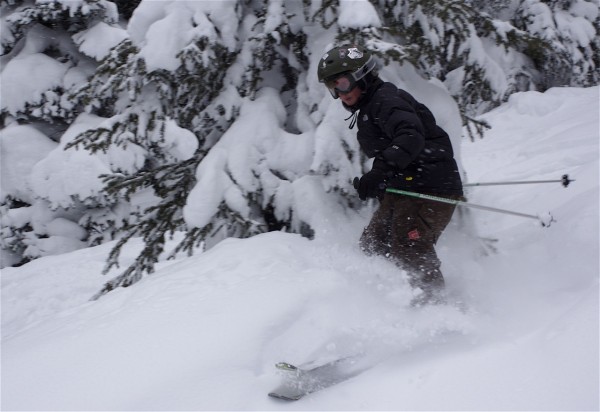 As the holiday bustle dies down, and with massive amounts of snow on the slopes, there's no better time to introduce your family or friends to skiing and snowboarding than during January, the seventh annual Learn to Ski and Snowboard Month. Right after New Year's, during the entire month, ski and snowboard areas throughout the country offer their best deals for newcomers wanting to try one or both of these winter sports in the most affordable way.
"Cost and convenience often are top of mind for people considering taking up skiing or snowboarding," said Mary Jo Tarallo, executive director for the snow sports industry's national initiative. "Like anything else, making the sports affordable and accessible requires a little research and smart shopping."
The learntoskiandsnowboard.org web site not only provides access to resorts and their learning offers, it also provides a list of snow sports retail shops, tips for newcomers ranging from "How to Save Money", "How to Dress" (starting with clothes from one's closet), "Dealing with Children" and "How to Pack for a Ski/Snowboard Trip".
Newcomers who take lessons during January have a couple of ways to make skiing and snowboarding more affordable. Online retailer skis.com/snowboards.com is giving a $50 gift voucher to anyone who takes a beginner lesson and sends in the receipt. The skis.com web site has information starting Jan. 1
A free subscription through learntoskiandsnowboard.org to the Mountain Sports Club paves the way for discounts and savings. Numerous "Passport" programs for kids offers parents substantial savings on lessons and lift tickets for elementary level school children. Discounted lift ticket/learning programs are available during January and beyond from specialized web sites Liftopia.com and GetSkiTickets.com. Details and links to all of these opportunities are available through learntoskiandsnowboard.org. Snowlink.com is another good source for information.
Beginners who bring other beginners for lessons can win substantial prizes for doing so including skis from Head and Ramp, a snowboard from Ride or a $500 gift voucher from Krimson Klover. The key is to take the Bring a Friend Challenge.
Newcomers who enter the First Day Faces campaign (#firstdayfaces) are eligible to win a four-day trip to Utah including airfare from a major city. "We think that's an affordable offer", said Raelene Davis, Marketing VP for Ski Utah and sponsor for the trip.