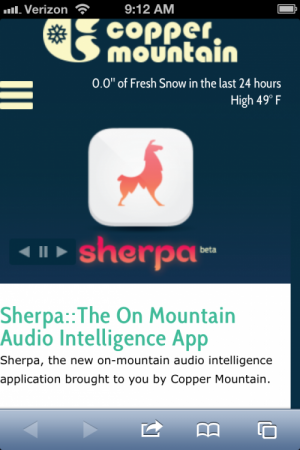 In the age of über-communication, it pays to be connected, and Copper Mountain this season will provide another good reason to upgrade to the latest smartphone.
According to the resort, the new Sherpa on-mountain intelligence app will let you ski the mountain like a local, with hands-free real-time info on snow conditions, grooming and much more.
The app taps into the knowledge of longtime employees, ski patrollers and other local experts to make that wisdom available to anyone with a mobile device. Sherpa will be launching for the 2013-14 Copper Mountain Ski Season and you can preview it at www.coppercolorado.com/sherpa.
Here's the rundown on the app from Copper Mountain's PR department:
The first hands-free, geo-aware, mountain guide. Turn it on, plug in your headphones, put it away and Sherpa will alert you with insider tips, directions and information wherever you are on the mountain
Mountain-wide, trail specific tips, directions and information. Know what the real insiders know. Which sides of trails have the snow, which sides are groomed, and where trail intersections eventually lead. Up-to-date terrain information you hear about with your headphones.
Ski Patrol Help button. One touch will call the ski patrol, alert them that you need help, and provide them with the gps coordinates of your current location on the mountain
Easter eggs, celebrity hints, Copper Mountain specials and more. Discover audio tidbits all across the mountain—clues to scavenger hunts, special promotions, celebrity tips and tricks and more.
Sherpa will be available for both iPhone and Android