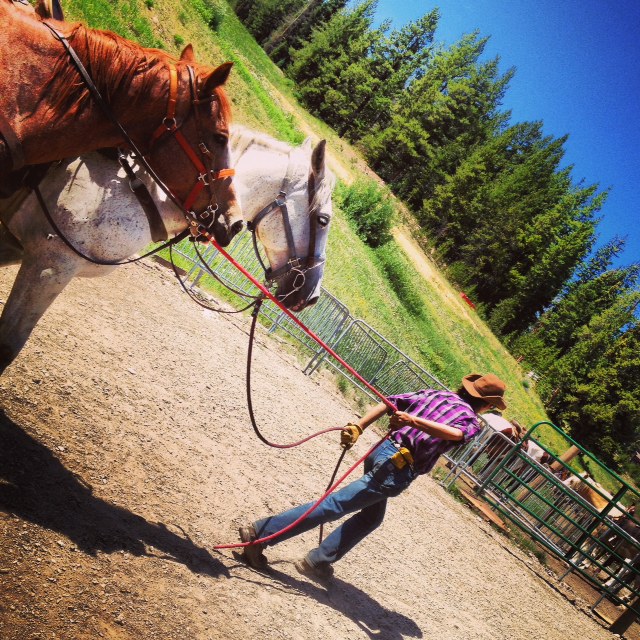 Along with the excitement of go-karting and downhill mountain biking, there's another way to experience Copper Mountain.
A leisurely ride to timberline astride a big Western saddle horse will give you an entirely new perspective on the Colorado high country, as your trail guide tells you how the trappers and miners first set up camp in lush valley at the base of the resort more than 100 years ago.
The Copper Mountain Stables are tucked away at the west end of the resort in the Union Creek area, offering daily rides on the resort's extensive trail system.
In the winter time, the stables offer twide-daily scenic sleigh rides to a western-style backcountry tent, where passengers warm up to a crackling wood fire while enjoying hot chocolate and S'mores.
Summer trail rides are along high country trails criss-crossing cool, shady groves of evergreens and sun-dappled wildflower meadows, along with a chance to see some Colorado wildlife, including deer, chipmunks and songbirds. During the early morning and late afternoon rides, you may even get a chance to see a bear, elk or moose!
Summer trail rides are offered daily:
1 hr Trail Ride $45/person
2 hr Trail Rides $65/person
1/2 day Ride with Lunch $125/person
Trail rides leave on the hour, with the first rides heading out at 9 a.m. The last one-hour ride departs the corral at 4 p.m., and the last two-hour ride leaves at 3 p.m. Reservations are recommended to guarantee your ride, but walk-ups are welcome.
Follow Copper Colorado Condos on Twitter for daily updates and photos from the high country, and if you're ready to start planning a trip, browse our selection of the best condos Copper Mountain has to offer.