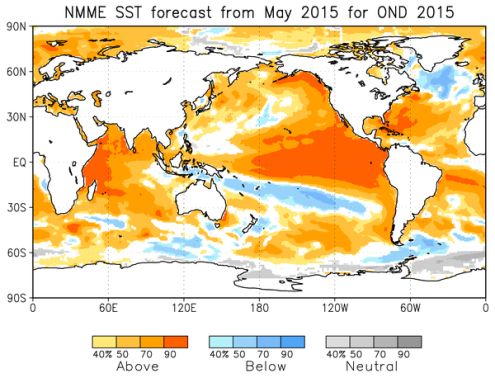 A developing Pacific El Niño is already affecting weather patterns across the western U.S., including record spring rain and snow in Colorado, where several weather stations reported the all-time wettest month on record for any year. Many more stations recorded records for May precipitation.
El Niño, when parts of the eastern and central Pacific Ocean are much warmer than average, can also ensure a relatively moist summer in Colorado by helping to fuel the normal monsoon thunderstorm season, from mid-July through late August. That's good news for firefighters because it lessens the chances for big wildfires across the state.
And last week federal climate trackers said El Niño is likely to stick around for the summer and probably even through the end of the year, perhaps even gaining strength. More on the forecast in this NOAA El Niño blog.
This year's El Niño could reach a record level, some forecasters say, which would make it a "Super El Niño," on par with 1982 and 1997. The outcome for Colorado is far from certain, but it could spell relief for parched California. And if past patterns hold true, Colorado could see abundant early season snow, with less-certain impacts later in the season.