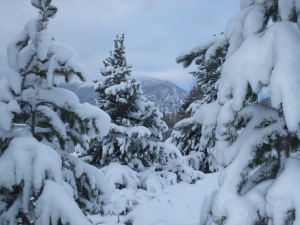 Ullr was good to Colorado the first few days of December, delivering an icy blast of powder across the state Many resorts reporting double-digit snow totals. That includes Copper Mountain, where 10 inches piled up in two days.
Falling atop an already generous early season base, the new snow means more terrain, including several trails served by the Rendevous lift, which is now open. And as the racer training around the Super Bee lift slowly winds down, Copper is also starting to open trails in that area, including Upper Collage, Lower Encore, and West Encore. As a bonus, you can watch some of the world's best ski racers carve high-speed turns as you ride up the Super Bee Chair.
The next couple of weeks should offer some of the best early season skiing recent memory, so if you want to enjoy the powder before the holiday crowds arrive, let us help you plan a pre-Christmas trip. Start by checking out our slopeside condo rentals at Copper Mountain, then contact us if you have any questions.
With temperatures expected to hover in the low single-digits the next few days across most of the mountains, resorts are telling their guests to be aware of cold-related injuries, including frost bite and frost nip.
Keep an eye on your buddies and go inside to warm up and don't leave any skin exposed to the air for too long," Copper wrote in the Dec. 5 morning snow report. Warm mittens, goggles and a face mask are essentials, not optional, the next few days!
If all this snow is motivating you to get out on the hill early, you can upgrade your season pass with the Secret Pass option for just $99, enabling lift-line shortcuts at some chairs and a 15 minute head start. The Secret Pass upgrade is only available in limited qualities for a limited time. Visit this Copper web page for information on the upgrade, as well as other bolt-on options for your season pass.
Some statewide snowfall totals include:
Wolf Creek - 19 inches
Monarch - 18 inches
Purgatory - 18 inches
Ski Cooper - 15 inches
Crested Butte - 12 inches
For the season, Loveland has already reported more than 100 inches of snow, and several other resorts may crack that mark this weekend, as another storm is forecast to drop several more inches of powder starting Friday night.
Follow us on Twitter for daily updates and photos from Copper and Summit County and don't forget to join us on Facebook.