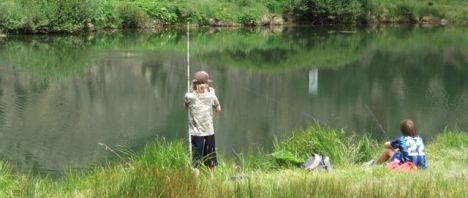 If you're staying at a Copper Mountain vacation rental, chances are you head into the heart of Summit County during your vacation. But just a short drive to the West, there's another slice of Colorado not to be missed — The expansive spruce-fir zone around Vail Pass.
Start by casting a line into the loch-dark waters of Black Lakes, a human-enhanced reservoir that you might never even see if you just zoom by on I-70. Take the Vail Pass Rest Area exit and turn right just after the eastbound on ramp. The deep sluices of water helps maintain steady supplies for the downstream resort and residential clusters sprawling across Eagle County.
In an annual start-of-summer ritual, the Eagle River Water and Sanitation District recently stocked Black Lakes with 2,500 pounds of rainbow trout (6/13). According to the hatchery that raised the fish, that equals to about 1,000 10- to 16-inch lunkers. Another 2,500 pounds of trout will be stocked in early July, fulfilling a 35-year agreement with state wildlife officials.
Colorado Parks and Wildlife partners with the district to operate Black Lake No. 2 in support of fishing, wildlife habitat, and recreation. Information on fishing licenses and fees is available online at [url=http://wildlife.state.co.us/Fishing/]http://wildlife.state.co.us/Fishing/[/url].
When you've caught your limit, drive west along Shrine Pass Road, which showcases some of Colorado's most diverse wildflower displays at the heart of the Southern Rockies ecological crossroads. If you poke around the fringes of the forest, you may scare up a snoozing lynx. The rare wild cats are repopulating the area and have been known to den and breed around Vail Pass.
Little did you know your Copper Mountain vacation rental was such a great base camp for exploring nature!
You can adventure on down that same road all the way to the funky historic mining towns of Red Cliff and Minturn. The road drops a few thousand feet in elevation along the way and the landscape shifts from dark spruce forests to the twinkling green of aspen stands, dotted by the red sandstone outcrops that mark the start of western Colorado's Canyon Country. A quick return trip over Vail Pass takes you back to Copper in time for dinner, or even an evening round of golf.
Follow us on Twitter for daily pics and travel tips, and visit our Facebook page to see what other Copper Mountain fans are up to!