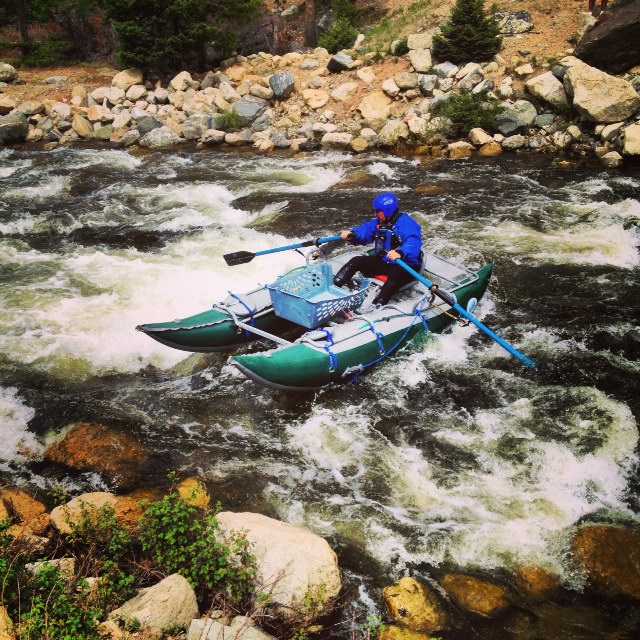 Colorado boaters are already raving about this year's season, with a hefty and sustained runoff promising months of splashy summer fun in local streams as well as rivers around the central and northern parts of Colorado.
Water experts say the snowpack in the state's key river basins are anywhere from 30 to percent above average, and a relatively cool and snow start to the spring is delaying the peak runoff to the point that it will coincide with the start of the busy summer season. Around Copper Mountain and Summit County, that means there will be excellent rafting in the Blue River, north of Silverthorne.
Because the flow in the Lower Blue is completely dependent on releases from Dillon Reservoir, boaters can't always enjoy that scenic stretch of river. Some years, Denver Water has to try and capture every drop, but this year, there will be "extra" water. As of early May, Denver Water's engineers said they expect sustained releases at levels suitable for rafting and kayaking right through early summer.
Copper Mountain is a great basecamp for boating and floating, so if you're staring to plan a spring or summer getaway, check our listings for great deals on our Copper Mountain vaction lodging.
If you want to sample the local whitewater, check in with Frisco-based Kodi Rafting, which in past years has also offered a few trips on Tenmile Creek, starting near Copper Mountain and finishing with an exhilarating run through downtown Frisco to the town Marina.
If you want to test yourself a bit more, consider a stand-up paddle boarding trip with Kodi, including a on-hour intro session on a stretch of calm, flat water, and an afternoon expedition to some local whitewater, where pro guides will help you navigate the rapids, with a raft following to pick up stragglers.
You can also get geared up for whitewater season with Frisco-based Ten Mile Creek Kayaks, the only full-service retail boating operation in Summit County, located right along the shores of Tenmile Creek at the far west end of Frisco Main Street, and there are several other rafting companies that offer trips on rivers and streams throughout the region.
We can help you plan a memorable vacation based around a stay at one on of our Copper Mountain vacation rentals, so visit our listing page to find your home away from home.