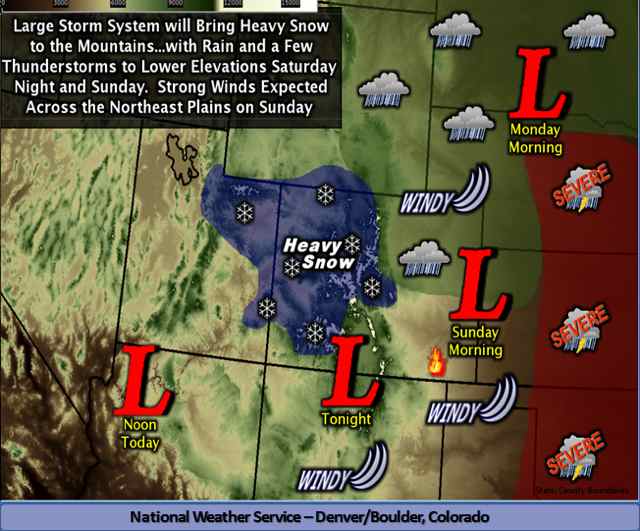 Big May snowstorms aren't all that unusual in Colorado, especially in the mountains. When that moist streak of Pacific air is forced to climb the high rampart of the Rockies, it cools, condensing the water vapor and triggering precipitation. Even Denver has seen multiple May storms that have dropped a foot or more snow. But it can still be a little disconcerting to drive into a blizzard in a season usually more associated with cherry blossoms.
Traveling in the mountains any time of year requires a little bit of extra preparedness, and that includes keeping up with the weather which is easy to do in the age of smart phones. For the overall forecast, we like the Weather Underground site, which offers a huge amount of detail and weather history, with all the record high and low temperatures, as well as precipitation averages and celestial info. There are also links to Snotel sites for snow-depth readings. It takes a little scrolling around the page and digging down into links, but it's a great comprehensive local weather page: http://www.wunderground.com/weather-forecast/US/CO/Copper_Mountain.html.
If you want to go straight to the source, visit the National Weather Service website for the Denver/Boulder office, which covers both the Front Range and the mountains around Summit County. Along with a short daily weather story, the forecast discussion links gives an understandable overview of regional weather patterns and the outlook for the next few days: http://www.crh.noaa.gov/den/.
We also like to track weather via social media, especially Twitter. The National Weather Service streams updates via Twitter at @NWSBoulder, including links to special statements and warnings, along with updated maps and radar images.
Of course you have to follow The Weather Channel's breaking feed at @TWSBreaking to get the latest not only from Colorado but from around the country. The feed has great detailed maps for specific areas of severe weather concern, which helps people make decisions to stay safe in real time.
If there is severe weather somewhere in the country, it's very likely that storm tracker @JimCantore will be nearby to report on it, whether it's flooding, a blizzard, tornadoes or a hurricane.
Also with The Weather Channel, winter storm expert @TomNiziol offers some of the best 140-character explanations of winter storms crossing the country from west to east.
If you want more of a climate/weather overview, check out @NOAA, the official feed of the National Oeanic and Atmospheric Administration. Along with news on current weather events, NOAA offers drought updates, hurricane outlooks.