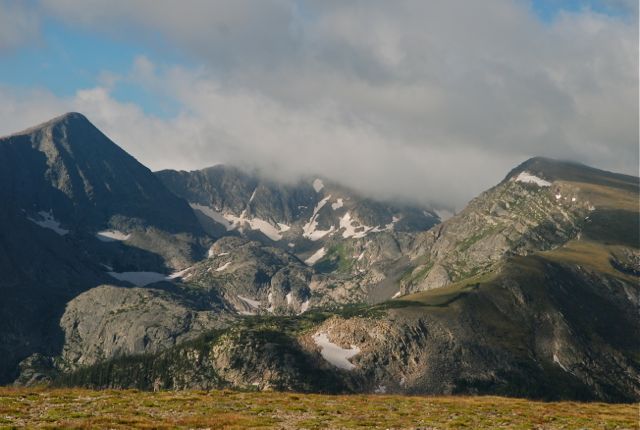 The year-long celebration of Rocky Mountain National Park's 100th Anniversary continues in April with a slew of events aimed at getting the public involved, including an Earth Day/National Junior Ranger Day Celebration (April 25), with arts and crafts activities, ranger programs, and greenhouse tours. Learn more about how to take care of our national parks and our planet. There might even be birthday cake!
April 27: Pioneers of the Peaks: Local Climbers Who Made History
A Ranger's Mountain Rescues presented by Keith Lober. For several decades, a small group of men and women made history exploring and ascending the summits surrounding the Estes Valley. In 2013 and 2014, the Estes Park Museum and the Estes Valley Library gathered their inspiring stories. Join us for this exciting speaker! There are also special on-going events that celebrate Rocky's Centennial year.
We Love Rocky Mountain National Park (through September 4)
This special Centennial exhibit at History Colorado in Denver, explores the many ways that people have connected with the landscape of Rocky Mountain National Park over time. Come see how your experiences fit into history of people in the park!
Harold Dunning's World View (January 24 –May 2)
This exhibit at the Loveland Museum and Gallery features personal items and photos from Harold Dunning, the founder of the Museum, and an avid outdoorsman who climbed Longs Peak 100 times! This exhibit will also feature accompanying programs about Dunning and also about climbing and hiking in Rocky Mountain National Park.
Celebrate with the Colorado Mountain Club (through September 4)
The Colorado Mountain Club (CMC) was instrumental in the formation of Rocky Mountain National Park 100 years ago. To celebrate, the public is invited to join the CMC in a special hikes and climbs of 100 of the 125 Named Peaks in the Park, Wildflower Hikes led by Colorado Native Plant Masters, and other special hikes. Visit [url=http://www.cmc.org]http://www.cmc.org[/url] for more information.
YMCA of the Rockies Centennial Hikes (through September 4)
The YMCA of the Rockies has been leading educational excursions into Rocky Mountain National Park since the park's creation in 1915. Come enjoy the beauty and backcountry of the park with one of their talented hike-leaders. Free for YMCA guests, $20 day pass required for non-YMCA guests. Visit [url=http://www.y-hikes.com]http://www.y-hikes.com[/url] for more details.
Across the Divide Geo-Tour, A Centennial Geo-Adventure (Year-round)
Come experience this free family fun GPS treasure hunt! Fifty Geocaches in Estes Park, Grand Lake, and RMNP relating to the Wilderness, Wildlife, Wonder, and RMNP's Centennial history take you from town to town and across the Continental Divide (when Trail Ridge Road is open). In order to follow Leave No Trace principles, traditional caches are not allowed in Rocky. Instead, virtual and Earthcaches bring you to meaningful locations, spots with a great view, or spots with geological significance in the park. Whether you are new to geo-caching or are a geo-caching expert, this tour is a fun and challenging adventure for the whole family. Find out more at the Estes Park and Grand Lake Vistor Centers or visit the Across the Divide GeoTour Facebook page.
Vacation Races' Rocky Mountain Half Marathon and 100th Anniversary Virtual Race (5K, 10K, and Half Marathon) Registration
Vacation Races is proud to sponsor the Rocky Mountain Half Marathon, a beautiful course totally outside Rocky Mountain National Park, with great park views on August 1. They are also sponsoring a 5K, 10K, and Half Marathon Virtual Race to be run anytime between September 1 through September 7. A Virtual Race can be run anywhere. Celebrate the Centennial and collect a t-shirt and finisher medal. Visit [url=http://www.therockymountainhalf.com]http://www.therockymountainhalf.com[/url] for more details or to register for either race.
For more details on these events, pay a visit to Rocky Mountain National Park's 2015 Centennial Calendar of Events on the park's website at [url=http://www.nps.gov/romo]http://www.nps.gov/romo[/url] look for the Centennial logo. Don't forget that ranger-led programs and Rocky Mountain Conservancy Field Institute Classes celebrate the park all year long!