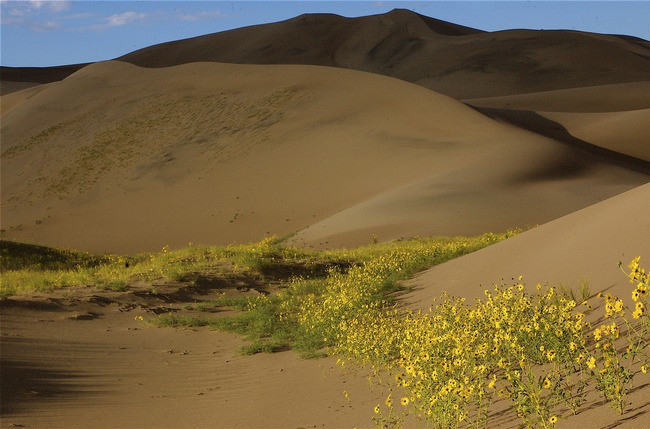 More than 5 million people visited national parks in Colorado last year, and they dropped $330.5 million on lodging and food, supporting $,692 jobs in the state. The stats are from the latest edition of an annual National Park Service economic report, showing every year how tourism on public lands and the natural resource values associated with that play a big role in the Colorado economy.
"From Great Sand Dunes to Florissant Fossil Beds National Monument, the national parks of Colorado attract millions of visitors a year from across the country and around the world," said Sue Masica, director of NPS's Intermountain Region, which includes Colorado and seven other states. This new report confirms that national park tourism is a significant driver in the national economy, returning $10 for every $1 invested in the National Park Service. This reality makes parks tourism an important factor in Colorado's economy as well. It's a result we all can support."
Colorado's 12 national parks include: Black Canyon of the Gunnison, Great Sand Dunes, Mesa Verde and Rocky Mountain national parks; Colorado, Dinosaur, Florissant Fossil Beds, Hovenweep and Yucca House national monuments; Bent's Old Fort and Sand Creek Massacre national historic sites, and Curecanti National Recreation Area.
The national report shows $14.6 billion of direct spending by 273.6 million park visitors in "gateway" communities within 60 miles of a national park. This spending supported 237,000 jobs nationally -- 197,000 them in park gateway communities -- and had a cumulative benefit to the U.S. economy of $26.5 billion.
The 2013 national economic benefit figures differ from the 2012 results, which were reported earlier this year. In 2012, 415,000 more people visited Colorado's national parks (5,811,546 visitors) than in 2013, spending more ($347.4 million) and supporting more jobs (4,991) in the state. The authors of the report said the 16-day government shutdown in October 2013 accounted for most of the national decline in park visitation. The economists also cited inflation adjustments for differences between visitation and visitor spending, jobs supported and overall effect on the U.S. economy.
According to the national report, most park visitor spending was for lodging (30.3 percent), food and beverages (27.3 percent), gas and oil (12.1 percent), and admissions and fees (10.3 percent). Souvenirs and other expenses accounted for the remaining 10 percent. Nationally, the largest jobs categories supported by visitor spending were restaurants and bars (50,000 jobs) and lodging (38,000 jobs).
To download the report, visit http://www.nature.nps.gov/socialscience/economics.cfm. The report includes information for visitor spending by park and by state.
To learn more about Colorado's national parks and how the National Park Service works with communities in the state to help preserve local history, conserve the environment, and provide outdoor recreation, go to www.nps.gov/colorado.