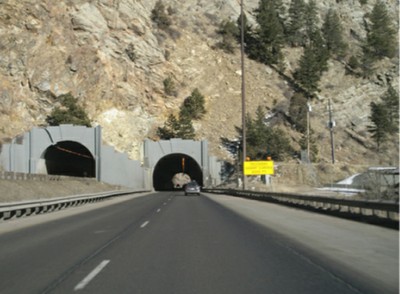 If you're planning a midweek getaway for some Copper Mountain skiing, you may be one of the first travelers to pass through a brand-new tunnel bore along eastbound I-70. The tunnel was designed to start easing the traffic jams that often develop as weekend warriors head back to the Front Range.
Colorado Gov. John Hickenlooper last week joined other federal, state and local officials to preview the improvements near Idaho Springs. The new tunnel lane, as well as safety improvements either side of the tunnel, were completed after just eight months of rock blasting, rock bolting and paving. Weather permitting, the improved section should be open for traffic by Dec. 12 after a 36 hour traffic switch.
"The I-70 mountain corridor is a critical component of our transportation system as well as Colorado's economy," Hickenlooper said. "This project serves as a stepping stone for future improvements to help ensure safe and efficient travel. We thank CDOT for working to provide practical and innovative transportation solutions for the I-70 mountain corridor."
By widening eastbound I-70 through the Twin Tunnels, CDOT will be able to build an express lane for eastbound peak periods that uses the shoulder lane. Using the existing wide shoulder from Empire Junction through Idaho Springs, motorists will be able to travel the peak period shoulder lane by paying a toll only during peak travel times. In return, they will have a reliable travel option with consistent speeds that will save motorists an average of 30 minutes in travel time. The peak period shoulder lane will be constructed and open to traffic in summer 2015.
"We recognize the importance of addressing the congestion issues on the I-70 mountain corridor, but given the funding constraints we must look for solutions within our means," said CDOT Executive Director Don Hunt. "The peak period shoulder lane allows us to get the most out of our existing system while further improving safety and mobility,"
Although the new lane through the eastbound Twin Tunnel is part of the Express Lane, the fees will be waived until the peak period shoulder lane is complete and open. Meanwhile, motorists can travel the lane for free. For additional information on the peak period shoulder lane, visit the project website at http://www.coloradodot.info/projects/i-70-eastbound.
Want daily updates from Copper Mountain? Follow our lively Twitter feed!