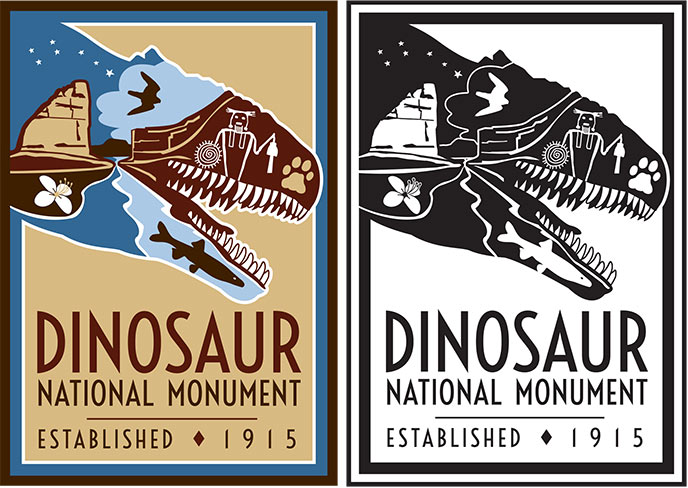 Dinosaur National Monument may be one of Colorado's best-kept public lands secrets, but that's been changing this year, as the area celebrated its 100th birthday.
The centennial celebrations culminate next weekend (Oct. 2-4) with a slew of events s hosted by the monument and its community partners. Entrance fees will be waived on both Saturday and Sunday to welcome everyone to join in the festivities and to say thank you to our visitors and local communities.
On Friday, October 2nd from 6:30 to 8:30 PM, the Uintah County Heritage Museum will host a closing reception for the Dinosaur Centennial Art Exhibit. Meet several local artists who have been inspired to capture the beauty and diversity of Dinosaur's landscapes. The exhibit includes paintings from A.D. Shaw and photographs from Kim Barton, Mark Fuller, Randy Fullbright, Bill Mitchum and Peter Williams. The Dinosaur Centennial Art Exhibit is now open from 9:00 AM to 6:00 PM on weekdays and from 10:00 AM to 4:00 PM on Saturdays through October 3. The Uintah County Heritage Museum is located at 155 East Main Street in Vernal, UT.
On Saturday, October 3rd the Quarry Visitor Center and Quarry Exhibit Hall will be open extended hours from 9:00 AM to 9:00 PM. Visitors may drive their vehicles directly to the quarry from 9:00 AM to 12:55 PM. From 1:00 to 9:00 PM, visitors will park at the visitor center and a free shuttle to the quarry will run every 15 minutes.
Cake will be served at the Quarry Visitor Center starting at 1:30 PM. Presentations in the Quarry Visitor Center auditorium will feature a talk by Mary Douglass titled Growing Up with My Grandfather at 2:00 PM and a fossil show and tell by current Park Paleontologist Dan Chure from 2:15 to 3:00 PM. A kid-friendly dinosaur-themed birthday party will take place in the Quarry Exhibit Hall from 2:00 to 4:00 PM with a costume parade at 3:00 PM.
Dinosaur costumes and other fun attire is encouraged! Starting at 5:00 PM, the festivities at the Quarry Exhibit Hall become more formal with a Twilight Open House from 5:00 to 9:00 PM and the Dinosaur Centennial Ceremony starting at 6:00 PM. Speakers at the ceremony include members of Earl Douglass' family, several local elected officials, Park Paleontologist Dan Chure, and Superintendent Mark Foust.
On Sunday, October 4th the Quarry Visitor Center, Quarry Exhibit Hall and Canyon Visitor Center return to regular hours of 9:00 AM to 5:00 PM. Join a ranger at the Canyon Visitor Center at 9:30 AM for a Harpers Corner car caravan and hike. Participants will drive their own vehicles up the 31-mile paved road and drive back on their own pace. The optional hike on the Harpers Corner Trail is two miles round trip. Bring water and snacks and dress for changing weather conditions. Cake will be served at 1:30 PM at both the Canyon Visitor Center and Quarry Visitor Center. A special Junior Ranger program at 2:00 PM at the Canyon Visitor Center and the Quarry Exhibit Hall will recognize the role the next generation has in preserving Dinosaur into the next century.
Even if you are not able to join the celebration in person, you are invited to participate in commemorating the past 100 years at Dinosaur National Monument. If you have a photo and memory you'd like to share about your time as an employee, volunteer or visit to Dinosaur National Monument, email it to us or share it with us through our social media sites including Facebook, Twitter and Instagram to be part of the "Dinosaur through the Decades Community Scrapbook".
President Woodrow Wilson first set aside 80-acres of fossil-rich land in Northeast Utah on October 4, 1915, as Dinosaur National Monument to protect "an extraordinary deposit of Dinosaurian and other gigantic reptilian remains of the Jurassic period." A second proclamation by President Franklin D. Roosevelt in 1938 recognized the surrounding area's spectacular scenery, geology, ecology and rich cultural history and expanded Dinosaur National Monument from 80 acres to over 210,000 acres, spanning the Utah-Colorado border.