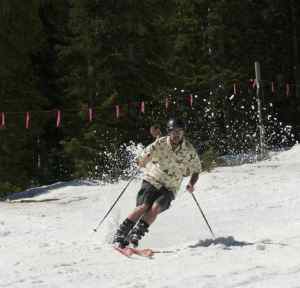 Unfortunately, most of us can't spend every single day of the season shredding fresh powder at Copper Mountain, but even if you're stuck in a cubicle, you can always dream, right?
And you're not alone. Around the world, millions of weekend warriors plot their winter-weekend plans while perusing some of the many ski- and snowboard-related websites. Some are designed for swapping tips and snow stories with other skiers and boarders, and other sites are more informational, offering links to webcams and snow reports. So get ready to use your browser bookmark, because we're going to share a few of our favorite sites.
If you enjoy talking about the latest gear, or if you're looking for advice on what kind of skis might be best for you, check out the Teton Gravity Research Tech Talk forum. Be warned: All of TGR's forums can include a snarky element, but in amongst the irreverent comment threads, you'll find useful advice posted by long-time skiers and tech experts.
For more general ski and snowboard discussion, the TGR ski and snowboard thread is always lively, with updates on conditions and extremely opinionated discussion threads on the latest ski-related news.
We've also been reading Powder Mag online recently, after being impressed by their coverage of how global warming will affect skiing and ski areas. Along with some of the best ski travel writing, Powder Mag frequently publishes hard-hitting journalistic pieces, like this feature on how oil and gas drilling threatens a favored backcountry skiing area near Aspen.
The EpicSki.com forums take themselves a bit more seriously than TGR, and the content includes features on resorts, gear and specialized topics like family skiing. The trip reports at EpicSki are always worth reading for an unvarnished perspective on the latest conditions at your favorite mountain.
Probably nobody has been at it longer than Marc Guido, who has been publishing the First Tracks!! online ski mag ever since the days of dial-up web access. First Tracks offers tons of fresh content every day, as well as an impressive archive of features on ski resorts and gear.
We also like to stay tuned with what's happening around the world, especially in the resort of the European Alps. The best site we've found for that is PlanetSki.com, apparently run by some British expats based in Verbier, Switzerland. The site offers a stream of fresh content daily during the season, including news about ski racing and events at the big Euro resorts.
For more of industry insider perspective, check out Ski Area Management magazine, which bills itself as the voice of the mountain resort industry. The website includes well-sourced stories with a business focus.
Do you have any favorite ski websites to share? Send a tweet to @CopperCondos, and if you're ready to start planning a ski trip, start by checking out our great selection of ski condos at Copper Mountain.