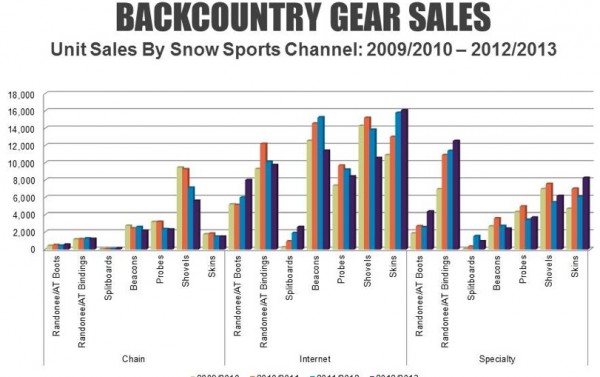 As the ski industry gears up for the 2013-14 season, SnowSports Industries America has released its 2013 Snow Sports Market Intelligence Report covering last season's ups and downs. And despite the lack of early season snow in parts of the Rockies, the season overall ended on a positive note for the industry, with total sales of $3.3 billion, up about 3 percent over the previous winter.
Alpine ski equipment accounted for 60 percent of total sales, and snow sports apparel is the single largest category, at $1.5 billion dollars.
The full report provides detailed data and statistics on equipment, apparel and accessories sales along with participation information from all six snow sports disciplines: alpine ski, freeski, snowboard, cross country ski, snowshoe and telemark. A short video summary is online here.
The report also covers a variety of retail channels including snow sports specialty, chain and the Internet. The easy-to-follow analysis also features stand-alone chapters for alpine, snowboard, cross country, telemark, backcountry-Randonee/AT, snowshoe, equipment/apparel accessories and apparel categories.
Select Report Highlights:
2012/2013 was a $3.4B season, up 3 percent.
Action cameras are up 50 percent to over 123,000 units sold.
California and New York are the states with the most snow sports participants.
Alpine ski equipment represented 60 percent of all 2012/2013 dollars sold.
Snow sports apparel is the largest category for the industry with $1.5B sold.
Snowboard participation dropped 3 percent, but the average rider was more active this year and spent 11 days on the mountain vs. 8 days in 2011/2012.
Snow Sports entrepreneurs find the report particularly useful when developing business plans and all snow sports businesses may use the report to provide a backdrop on the industry when seeking initial or additional financing. Students have also used this report extensively for various reports and projects in their business, social science and a variety of other class projects.
To receive a copy of this year's report or for more information about snow sports retail sales and other SIA research products including the State of the Industry Videos, Snow Sports Participation Study, Revisiting Growing the Snow Sports Industry and more, contact Kelly Davis, SIA's Director of Research, at [email protected] or by phone at 703-506-4224.