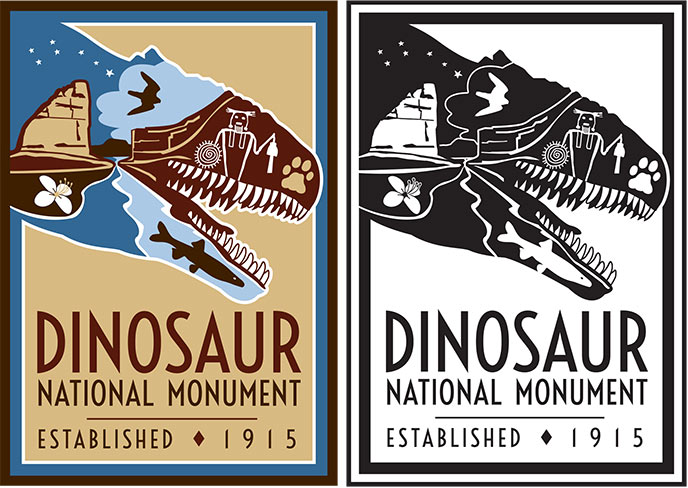 If you've been enjoying hiking and mountain biking on public lands all summer, maybe it's time to show a little love. Later this month, you can do exactly that, as Dinosaur National Monument and the National Parks Conservation Association host a National Public Lands Day volunteer event on September 26 (8:30 - 1 p.m.).
Volunteers will have an opportunity to do clean-up and restoration work along the Harpers Corner Road at the national monument. Volunteers should dress for the weather, wear sturdy shoes, and bring a refillable water bottle with them. The Park Service will provide gloves, supplies and water. NPCA will provide snacks and lunch.
Volunteers should plan to meet at 8:30 AM at the Canyon Visitor Center in Dinosaur, CO, where NPCA will provide a light breakfast. Volunteers who are participating in the event will not be charged an entrance fee, since National Public Lands Day is a fee free day at all National Parks.
There will be afternoon hiking options for those participating in the National Public Lands Day volunteer event, and there will also be a Saturday evening ranger-led full-moon hike and interpretive talk available starting at 7:30 pm from the Split Mountain campground.
A complimentary group campsite has been reserved at the Split Mountain Campground in Dinosaur National Monument for those interested in camping on Friday and Saturday nights. Those who want to attend should RSVP to Cory MacNulty of NPCA via email ([email protected]) by Monday, September 21, 2015.
National Public Lands Day began in 1994. Because of its initial success, it has become an annual event held at numerous sites throughout the country. Volunteers join public land managers in working on projects that help restore and conserve public lands including national parks and monuments, wildlife refuges, national forests as well as city parks and historic trails. The event usually occurs on the last Saturday in September.
"The timing of this National Public Lands Day project is great, just one week before the actual 100-year anniversary of Dinosaur's establishment on October 4," said Dinosaur National Monument Superintendent Mark Foust. "In addition to looking back over the last century, the Dinosaur Centennial highlights the important role of future partners and volunteers as we kick-off our second century of stewardship."
"National Public Lands Day gives community members and others a way to enjoy the outdoors while contributing to conservation efforts throughout our public lands," said NPCA program manager Cory MacNulty, "NPCA is excited to be working with Dinosaur National Monument in this, their Centennial year, to offer what should be a fun and gratifying experience."