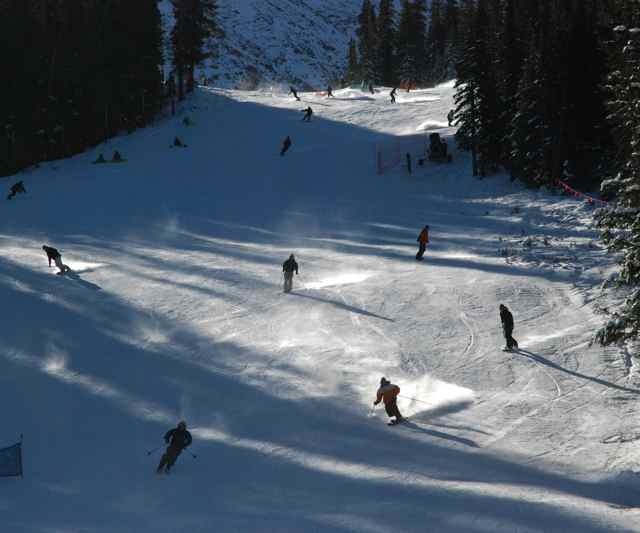 Summit County is earning its moniker as Colorado's playground this weekend, with three of the four local ski mountains already open for business after a week of on and off snowfall.
Arapahoe Basin, which was the first ski area in the country to open this season, has added a new trail, and last week opened top-of the mountain terrain off the Lenawee Chair to offer top-to-bottom skiing. With 8 inches of new snow in just the past 48 hours,A-Basin is getting set to open even more upper mountain terrain, including West Wall and Lenawee Parks. Get all the A-Basin terrain info here.
A-Basin chief Alan Henceroth is reporting in his blog that A-Basin has seen 40 inches of snow since Oct. 13, compared to the average October snowfall of 18 inches. Learn how A-Basin is preparing more terrain in this interesting post on Al's blog.
Copper Mountain opened for skiing Friday, Nov. 1 with 5 inches of fresh snow, as predicted by our local weather guru. Copper has three lifts operating serving about 60 acres, including top-to-bottom skiing off the American Eagle chair.
As a bonus, the resort opened a few trails off the Excelerator Chair for opening day, thanks to 8 inches of new snow in the past few days. Get all the latest info on snow and terrain at Copper's daily operation report, and visit the snowstake cam to watch a timelapse of the snow pile up. Copper's mountain webcams are online here.
Keystone also fired up the ski lifts Nov. 1, with open trails including long cruisers served by the River Run Gondola: Spring Dipper, River Run and Scout. In all, Keystone has 65 acres of open terrain. Check out the mountain report here.
And there's more good news — the National Weather Service says a cold, snowy storm is set to drop into Summit County during the middle of next week, with the potential for up to 12 inches of snow in favored mountain zones.
Early season is shaping up to be one of the best in recent memory, so take advantage of uncrowded slopes by planning a November trip. Our best condo deals are online here, and you can also follow us on Twitter for daily updates.