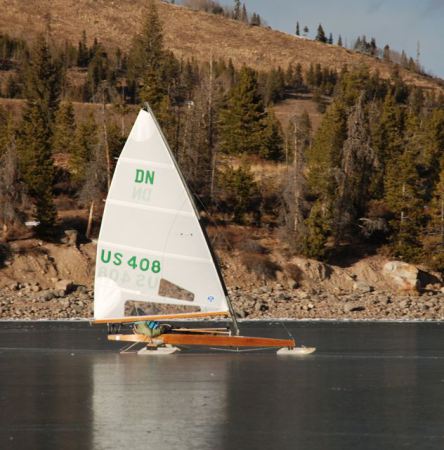 Downhill skiing and snowboarding are, without a doubt, our favorite sports, but there's so much more you can experience during a winter vacation at Copper Mountain, including a few activities that you've probably never even heard of.
That might include snowkiting, which combines the thrill of sliding on snow with some serious hang-time, fueled by the wind. Even if you like keeping your feet on the ground, it's fun to watch daring athletes strap themselves to a big parasail and then glide over the surface of frozen Dillon Reservoir.
The hotspots for this emerging sport are at Farmers Korner (between Frisco and Breckenridge), and at the Dillon Marina. Once the reservoir is frozen and there's a bit of snow on the ground, there's snowkiting action at both spots every weekend, and during the week, too, if the winds are good.
The Dillon Marina has become a Colorado hub for the sport, hosting regular competitions and open events. If you have some adrenaline junkies in your group, have them contact locally based Colorado Kite Force, offering lessons and introductory sessions all winter long.
Along similar lines, there's also a group of enthusiastic ice sailors in Summit County. Most of them are transplants from the Upper Midwest, where the sport is wildly popular. The concept is fairly simple. Lightweight wood and fiberglass sleds on steel rails, powered by a single sail, enables the sailors to easily reach speeds of up to 80 mph with moderate wind speeds. There's no formal Summit County ice sailing website, but check out this story from Summit Voice for more information and a short video.
There's no organized ice sailing group, but the local crew is quite friendly and open to casual participation. The season is short, lasting only from when Dillon Reservoir freezes over until the snow gets too deep for easy gliding — generally for a few weeks starting in early December. The best place to catch a glimpse is from along the Dillon Dam Road, between Frisco and Dillon, and also at the Dillon Marina, depending on where the best ice conditions are.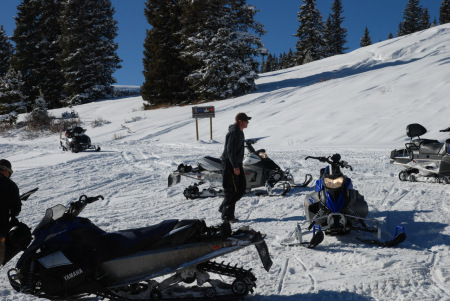 Another great alternative to a day of skiing is to enjoy a winter sleigh ride, something you can do right at Copper Mountain, with rides departing twice-daily, at 4p.m. and 6:30 p.m. After jingling along the trail, you'll end up at a cozy mountain tent to enjoy some hot chocolate while toasting that perfect marshmallow. Check the Copper Mountain Stables website for more information. You can also try Frisco-based Two Below Zero dinner sleigh rides, reviewed as an "amazing family experience" on TripAdvisor.
If horses aren't your thing, but you miss your doggies, consider a dogsled ride with Breckenridge-based GoodTimes Adventures. The tours run through the winter wonderland of the Swan River Valley along a six-mile trail, and guests switch off between running the dogs, riding in the dogsled, and riding on a small passenger sleigh with the guide.
More family fun is available at the Frisco Adventure Park, which includes one of the best tubing hills in the area, as well as low-key ski and snowboard lessons. The lessons are offered in partnership with the Copper Mountain Ski & Ride school and start Dec. 20.
The adventure park is also the base camp for the acclaimed Frisco Nordic Center, celebrating its 2th anniversary season this year. The Nordic center offers more than 20 miles of groomed crosscountry and snowshoe trails.
Summit County is also one of the best places in the West to try out snowmobiling, either on a tour with a guide, or you can rent a sled and head out on your own. There are plenty of snowmobile options in the area, starting with CopperMountainSnowmobiling.com which offers tours and rentals near the resort, in the vicinity of Vail Pass, where there is a great network of trails leading to classic Rocky Mountain vistas.
This is just a sampling of some great winter activities around Copper Mountain. Follow us on Twitter and we'll keep you posted on the latest events and activities with daily updates, or you can join our Facebook page to see what other Copper Colorado Condo guests are saying about their vacation plans. And if you're ready to plan your trip, browse our great selection of rental condos at Copper Mountain.