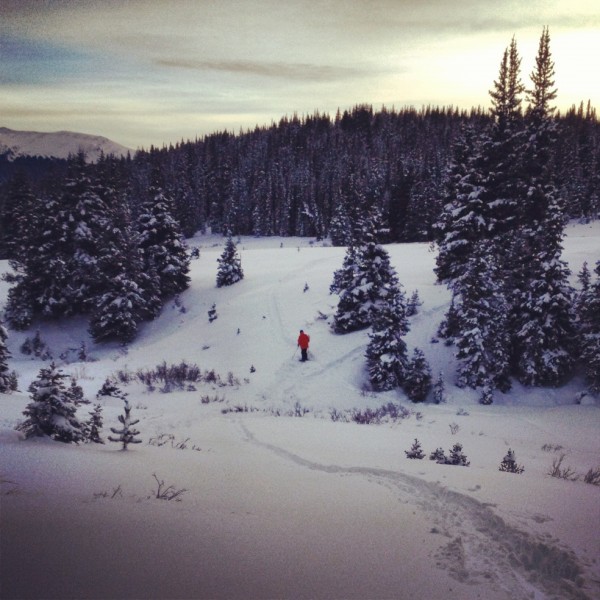 With exponential growth in both sales and participation in backcountry snow sports during the past three seasons, more and more people and groups are venturing out into what was once restricted "out of bounds" on-snow terrain, so it's no surprise there have been more avalanche accidents in recent years.
The snow sports industry wants to reverse that trend with an ambitious new awareness campaign that emphasizes safe backcountry travel and smart decision-making. Project Zero is a North American industry collaboration between avalanche forecast centers, educators, equipment manufacturers, industry associations and businesses, non-profits, and the American Institute for Avalanche Research and Education. Project Zero is launching its first targeted campaign, Backcountry Starts Here, at the 2015 SIA Snow Show, which opens January 29th in Denver, Colo.
The intention of the campaign is to reduce avalanche fatalities by changing perceptions of avalanche risk and backcountry behavior in young, skilled skiers and riders with immediate intentions to enter backcountry terrain. The campaign is rooted in market research conducted by Project Zero during the winter of 2013/14, which identified a strong need for peer-to-peer education. Additionally, the research showed that social media influences were an absolute necessity to drive these desired cultural changes.
"SIA is thrilled to support the launch of Backcountry Starts Here," said Dave Wray, SIA Western Sales and Marketing Manager. "The backcountry community, which includes retailers, manufacturers, guides, resorts and of course, end-consumers, all need to get on the same page to promote a safety mindset and this is a great step forward in accomplishing just that."
SIA's Backcountry Experience booth at the 2015 SIA Snow Show will be the industry launch of the campaign where retailers, reps and the media can learn more from AIARE professionals, athletes and guides including Chris Davenport, Lynsey Dyer, Greg Hill and Jeremy Jones. Each day, Backcountry Experience will host retail clinics, panel discussions, happy hours with the pros, in addition to supporting content structured around the basics of the Backcountry Starts Here campaign. Whether an individual is a longtime backcountry enthusiast or are starting this season, Show attendees are encouraged to learn more during the 2015 SIA Snow Show.
"We want to create a new normal," commented AIARE's Tom Murphy. "Currently the thinking is, 'I have my beacon, shovel, probe. Let's go.' We need people to be thinking, 'I have my gear, what's the avalanche problem today and how do we avoid it?' That will require a systemic change. And all of the stakeholders-the users, enforcers, rescuers, designers-will need to work together to promote it."
In October of 2012, SIA gathered a group of industry professionals ranging from avalanche forecasters, manufacturers, retailers, guides and resorts for the very first SIA Backcountry Committee meeting. After some additional round table meetings and conference calls the message was clear -- the industry needed consistent messaging, signage and terminology for avalanche safety and awareness that all facets of the marketplace would embrace. At the time, AIARE had already been working on Project Zero.
This collaborative effort leverages a variety of stakeholders throughout the industry to affect positive change. CEO of up-and-coming backcountry safety equipment manufacturer AvaTech, Brint Markle states, "Project Zero is pioneering an effort to bring together exceptional leaders from across our industry to reduce avalanche fatalities and promote a safer backcountry experience. There is no better time than now. More and more people are heading into beautiful, but potentially deadly terrain. We couldn't be more excited to be a Founding Partner of this critical initiative."
AIARE's Program Director, Ben Pritchett, agrees.
"We've all come together with the goal of leveraging our resources to drive avalanche fatalities toward zero. It's an audacious goal and it's one that we're not going to achieve unless we have support from all aspects of the snow sports industry," said Pritchett.
For more information on Project Zero and Backcountry Starts Here, visit: backcountrystartshere.com or find us on Facebook, Instagram, or Twitter for the latest updates, contests, articles and more.
About Project Zero:
Project Zero is a groundbreaking North American industry collaboration between avalanche forecast centers, educators, equipment manufacturers, industry associations and businesses and non-profits formed under the far-reaching vision to "Reduce Avalanche Fatalities to Zero." While lofty, this statement sets a vision that can only happen through broad collaboration towards cultural, infrastructure and educational changes in how we manage avalanche risk and backcountry travel.
About AIARE:
AIARE develops and disseminates avalanche course materials to avalanche educators in the United States, South America and Europe. There are over 95 AIARE course providers and 300 instructors representing AIARE internationally. AIARE gather's the latest knowledge, research and ideas in avalanche safety to create avalanche training courses that reflect the needs of today's backcountry travelers. AIARE is a 501(c) 3 nonprofit educational organization. For more information contact Tim Bennet at 303- 817-7378 or [email protected].