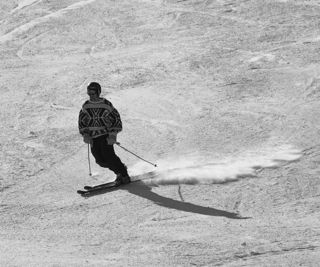 Cold weather across parts of the U.S, may have helped drive record sales of snow sports gear — especially clothing — during the early part of the winter, according to SnowSports Industries America, the snow sports industry's member-owned trade association.
The snow sports retail market had a record holiday selling season, but severe drought in the Sierra and Cascade mountain ranges tempered the celebration. Sales reached a new record $2.2 billion season to date (August to December), $193 million more than was spent at retail through December last season and $26.5 million more than the previous record for sales through December set during the epic 2010/2011 season.
This is a welcome turn-around for much of the country but despite the new record, December sales were negatively impacted by severe drought in the Sierra range where the snowpack is more than 80 percent below normal and in the Cascades where conditions in the high country were healthier than in lower elevations, but overall the snowpack is 50 percent below average.
By contrast, the Midwest, Northeast and Mid-Atlantic weather conditions were excellent for the snow sports market and record cold as far south as the Florida panhandle drove apparel and accessories sales to record levels.
Overall Snow Sports Market Sales through All Channels August through December 31, 2013
Equipment Sales: $541 million, up 6 percent in dollars sold and up 5 percent in units sold,
Apparel Sales: $985 million, up 7 percent in dollars sold and up 2 percent in units sold,
Accessories Sales: $734 million, up 15 percent in dollars sold up 10 percent in units sold.
Notable Trends
Alpine Touring/Randonee equipment continues to enjoy significant increases in sales, through December AT equipment sales increased 23 percent in dollars sold and 20 percent in units sold.
Sales of Alpine/AT boots defined as alpine DIN boots that can be converted to an AT/Touring sole for Backcountry use may be one of hottest items in the alpine market. Sales of alpine/AT boots are up 28 percent in units sold to 53,000 units sold, and up 21 percent in dollars sold to $20 million.
Women are getting prepped to hit the trails. Sales of women's specific cross country equipment increased 50 percent in units sold and 43 percent in dollars sold to over $4 million through December. Overall, sales of cross country equipment were up 16% in dollars sold this season.
More girls are getting snowboard equipment this year. Junior girls snowboarding equipment sales grew 17 percent in units sold and 18 percent in dollars sold through December. Overall, snowboard equipment sales are up 2 percent in dollars sold to $167 million.
Backcountry accessories sales including beacons, probes and shovels increased 17 percent in dollars sold and 14 percent in units sold through December. Beacons led the way with a 20 percent increase in units sold to 13,500 units through December.
So far, snow sports sales for 2013/2014 are very healthy but drought conditions in the Pacific West, particularly California, are a concern this season. Beyond snow sports concerns, conditions in California could severely impact the state's economy.
Record cold temperatures in the Midwest, Northeast, Mid-Atlantic and even the in the Deep South will drive apparel accessories sales higher. Snow and cold temperatures explain about 75 percent the variance in snow sports sales season to season.
Overall, the snow sports market has more than 19 million participants in skiing, snowboarding, cross country skiing, snow shoeing, telemark and alpine touring. This season, we project that consumers will spend more than $3.5M this season on equipment, apparel and accessories in the snow sports market.