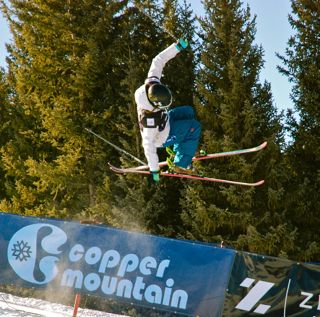 OK, we have to admit that we're in between storm cycles here at Copper Mountain. After a spell of snowy weather in early January, the storm door has closed for a little while at least, and with high pressure parked over the intermountain West, it doesn't look like there's any powder in the immediate outlook.
So what's a snow-lover to do? We've been cruising the internet for good ski-related material the past few days and wanted to share a few links with you, starting with some excellent reporting from POWDER Magazine writer Mitchell Scott, who took a close look at development leading up to the 2014 Winter Olympics in Sochi in a digital feature called Red Pow.
A little closer to home, we've been enjoying the latest edition of Mountain Town Magazine, a homegrown Summit County publication that covers Colorado ski areas. Our favorite features in the current edition are pieces on backcountry skiing in Eagle County, and a story on a Glenwood Springs based company building skis from local beetle-killed trees.
We're also following the lawsuit against the U.S. Forest Service and Alta Ski Area in Utah over the resort's snowboard ban. The legal action is being pursued in federal court because Alta operates on land leased from the federal government, and the plaintiffs are claiming that the ban violates the U.S. Constitution. Read more at First Tracks!!
We also got a chuckle from reading a backcountry ski story in the UK's Telegraph Ski and Snowboard section, where correspondent Peter Hardy says it's "too dangerous" to ski off-piste in the Alps this winter because of an unstable snowpack. The reason it made us grin is that, if we followed his advice here in Colorado, we'd NEVER get into the backcountry. Read more here.
Finally, because we never get tired of looking at awesome snow pics, we checked out the best 2013 ski photos as compiled by SKIING Mag. You can see the gallery online here.