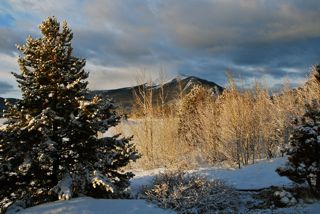 COPPER MOUNTAIN — Old Man Winter apparently didn't get the end-of-season memo this week and continues to favor the north-central Colorado mountains with some much-needed spring snowfall.
Copper Mountain Ski Area took advantage of the April powder by opening for an extra weekend, but now that the resort has put away the moguls for good, what does all this great spring snow mean for you?
For one thing, even frozen April showers lead to May flowers, and you can expect a spectacular crop of wild blooms even at the lower elevations once the snow melts.
The moisture will also help ease concerns about wildfires in the forests around Copper Mountain, keeping the brush and forest litter moist just a little bit longer. In fact, snowpack in the area just climbed above average for the very first time this winter, with 56 inches of snow on the ground at the Copper Mountain SNOTEL site.
Local streams should be flowing high with spring runoff well into late spring this year, a welcome change of pace from last year, when runoff peaked by April. That means the whitewater rafting and kayaking season will be much better than was expected just a few months ago, in the midst of a dry winter.
Those stream flows will also help raise reservoir levels around the state. In Summit County, Dillon Reservoir could come close to filling by the start of the boating season around Independence Day, good news for boaters and cyclists enjoying the lakeside recpath.
Keep up-to-date with the latest from Copper Mountain and Summit County by following us on Twitter, and visit the Copper Condos Facebook page.